Hong Kong pro-democracy tycoon Jimmy Lai detained for fraud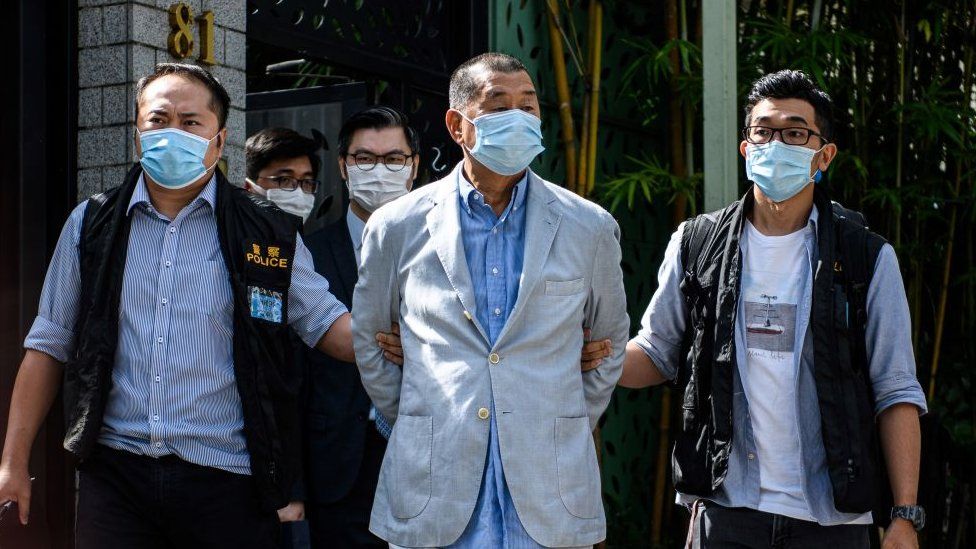 Hong Kong media tycoon and pro-democracy supporter Jimmy Lai has been charged with fraud and detained until a court hearing in April next year.
On Thursday a court denied him bail over a charge relating to the illegal use of his company's premises.
It comes a day after three prominent pro-democracy activists were jailed.
The cases have raised fears of a renewed crackdown on the city's activists and media figures, spurred by a controversial new security law.
Mr Lai was arrested under the National Security Law earlier this year and later released on bail.
China has said the new law will return stability to the territory after a year of unrest, but critics say it has silenced dissent.
In another development, former Hong Kong pro-democracy legislator Ted Hui has announced during a trip to Denmark that he is going into exile.
What happened to Jimmy Lai?
Mr Lai, 73, was arrested on Wednesday night along with two other senior executives from media company Next Digital.
Mr Lai is the founder of Next Digital which publishes Apple Daily, a well-read tabloid which is frequently critical of Hong Kong and mainland Chinese leadership.
On Thursday, the three men appeared in court to face charges relating to the alleged illegal use of their company's headquarters for purposes not permitted by its lease.
The charges stated that they had sublet a section of the premises. The landlord is a corporation established by the government to run the city's industrial parks.
The fraud charge is not being heard under the National Security Law but, according to an Apple Daily report, the judge presiding over the case had been hand-picked by the city's leader, Carrie Lam, to handle national security cases.
A police statement on the arrests did not name those detained but pointed out that one of them - Jimmy Lai - was still under investigation for violating the National Security Law.
While the two senior executives were granted bail, Mr Lai was denied because he was deemed an "absconding risk", according to local reports.
One of the city's most prominent supporters of the pro-democracy movement, Mr Lai is estimated to be worth more than $1bn (£766m). Having made his initial fortune in the clothing industry, he later ventured into media and founded Next Digital.
In a local media landscape increasingly fearful of Beijing, Mr Lai is a persistent thorn for China - both through his publications and writing that openly criticises the Chinese leadership.
It has seen him become a hero for many residents in Hong Kong. But on the mainland he is viewed as a "traitor" who threatens Chinese national security.
Earlier this year, he was accused of "colluding with foreign forces" under the National Security Law.
He was arrested in August, becoming the most high-profile person in Hong Kong to be detained under the law, and his newspaper offices were raided by hundreds of police officers.
He was later released on bail.
Interviewed by the BBC before the latest arrest, he said he would not give in to intimidation.
"If they can induce fear in you, that's the cheapest way to control you and the most effective way and they know it.
"The only way to defeat the way of intimidation is to face up to fear and don't let it frighten you."
The former Hong Kong pro-democracy legislator said in a statement: "I hereby announce that I will go into exile and will withdraw my membership of the Democratic Party of Hong Kong to leave Hong Kong.
"There is no word to explain my pain and it's hard to hold back tears."
Mr Hui faces charges linked to pro-democracy protests, but had been given bail.
Tough 48 hours for Hong Kong's democrats
By Martin Yip, BBC News Chinese, in Hong Kong
Jimmy Lai's detention comes hot on the heels of the jailing of three young activists for inciting unauthorised assembly. A dozen pro-Beijing pensioners popped champagne corks outside court to celebrate their sentencing, while holding a banner calling for even harsher jail terms.
One of the activists, Agnes Chow, is being investigated along with Jimmy Lai for allegedly colluding with foreign forces in order to threaten China's national security. If found guilty, they could remain in jail until they die.
A few political pundits have been saying that Beijing will only get tougher on Hong Kong. Following earlier sanctions by the US on some government officials, Beijing retaliated, sanctioning four Americans this week. But some supporters of the pro-democracy camp have been wondering if a change of guard in Washington will make it even harder to make their voices heard.
But Jimmy Lai's Next Digital group expects business as usual. Its shares will resume trading on Friday, copies of Apple Daily will still hit the news stands, and their new online daily news broadcast will still go on air, with his daughter-in-law fronting the bulletins.
What's the situation like in Hong Kong?
On Wednesday, activists Joshua Wong, Ivan Lam and Agnes Chow were jailed for their involvement in mass protests last year.
The young activists - who are among the city's most prominent - had been convicted of unauthorised assembly.
Rights group Amnesty International condemned the ruling, saying it was a way for authorities to "send a warning to anyone who dares to openly criticise the government that they could be next".
What is in the National Security Law?
A former British colony, Hong Kong was handed back to China in 1997 but under the so-called "one country, two systems" principle.
It was supposed to guarantee certain freedoms for the territory - including freedom of assembly and speech, an independent judiciary and some democratic rights - which mainland China does not have.
But the National Security Law has reduced Hong Kong's autonomy and made it easier to punish demonstrators.
The legislation introduced new crimes, including penalties of up to life in prison. Anyone found to have conspired with foreigners to provoke "hatred" of the Chinese government or the Hong Kong authorities may have committed a crime.
Trials can be held in secret and without a jury, and cases can be taken over by the mainland authorities. Mainland security personnel can legally operate in Hong Kong with impunity.
After the law was introduced, a number of pro-democracy groups disbanded out of fears for their safety.
The Chinese government defends the law, saying it will help return stability to the territory, which has been shaken by pro-democracy protests, and bring it more into line with the Chinese mainland.