China football: Hair colour cancels play at women's match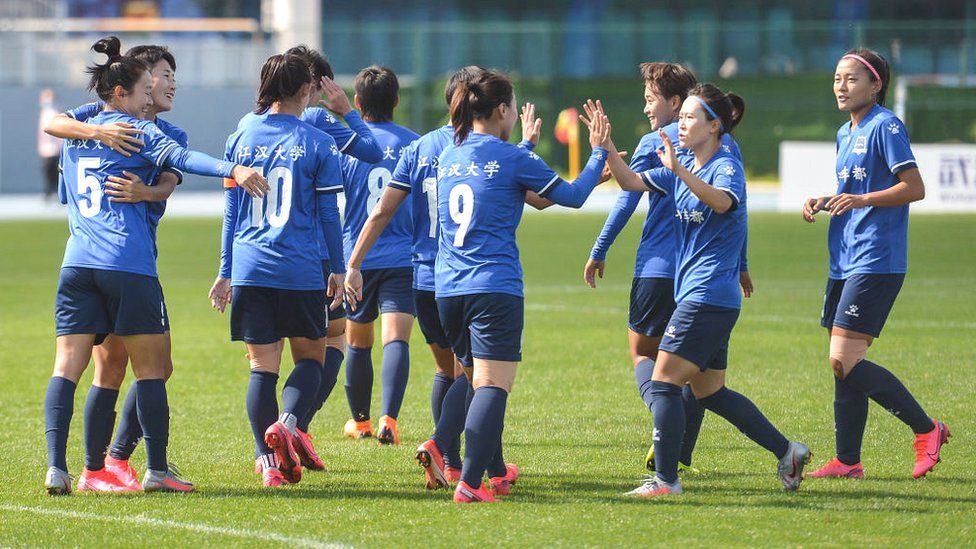 A women's university football match in China had to be called off after players were told they were not allowed to have dyed hair, state media report.
The women's teams of Fuzhou and Jimei universities were due to meet for a college league game in the south-eastern Fujian province at the weekend.
Team members from both sides bought black hair dye to correct the problem.
But one Fuzhou player's hair was deemed "not black enough" and the side had to forfeit for having only six players.
Before the match, "multiple players… were rejected from the match for violating a rule which requires that all players do not dye or curl their hair", the national Global Times reports.
"Athletes are not allowed to dye their hair, grow long hair [for boys], wear weird hairstyles, or wear any accessories," states the rule of the Fujian Provincial Department of Education, quoted by the South China Morning Post (SCMP).
"Otherwise, they will be disqualified from the competition."
The rules from the organisers, the National Youth Campus Football League (University Division), go further: "Athletes at all stages shall not have tattoos, dye their hair, wear weird hairstyles, or wear any accessories, otherwise they will be ineligible for the competition."
The decision sparked intense debate on social network Weibo, including users expressing anger and mockery, correspondents say.
There was talk about how red tape gets in the way of Chinese football players being able to perform well, and some talk about double standards, with one user saying, "Women footballers are not allowed to dye their hair, yet male footballers can be tattooed?"
You may also be interested in: