China mine rescue: Crews work to free trapped workers in Xinjiang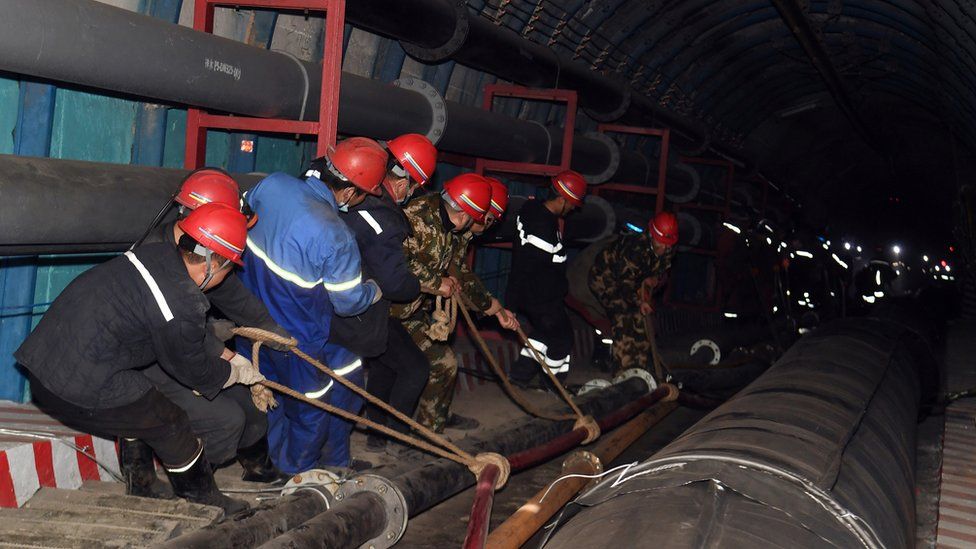 Rescue teams have been trying to reach 21 people trapped in a coal mine that flooded in China's Xinjiang region, local media reports say.
It is not clear what triggered the flooding at the Fengyuan mine, but it reportedly occurred during upgrading works on Saturday.
Some 29 miners were initially affected, but rescuers managed to free eight of them.
Crews have located all the trapped the miners, state broadcaster CCTV said.
Twelve were on one platform, eight on a second platform, and the last worker in an escape route, it said.
The flooding is reported to have hampered rescue efforts by cutting power underground and disrupting communication lines.
Rescuers have been trying to pump water out of the flooded shaft while simultaneously pumping air into the mine, according to CCTV.
Further pipes are being laid but the operation is expected to be challenging, the broadcaster added.
The accident that led to the flooding happened at 18:10 local time (10:10 GMT) on Saturday.
By midday on Sunday, state media reported that more than 1,400 people were involved in the rescue operation. Twenty-five ambulances and dozens of medical professionals were at the scene.
The eight miners who were rescued earlier are reported to be in good health.
And in January, 10 miners were killed in a blast at a gold mine in Shandong province.
Eleven survivors of the explosion remained trapped underground for two weeks, and for much of that time they had no food and sustained themselves only on water.
You may also be interested in...