Covid origin: Why the Wuhan lab-leak theory is so disputed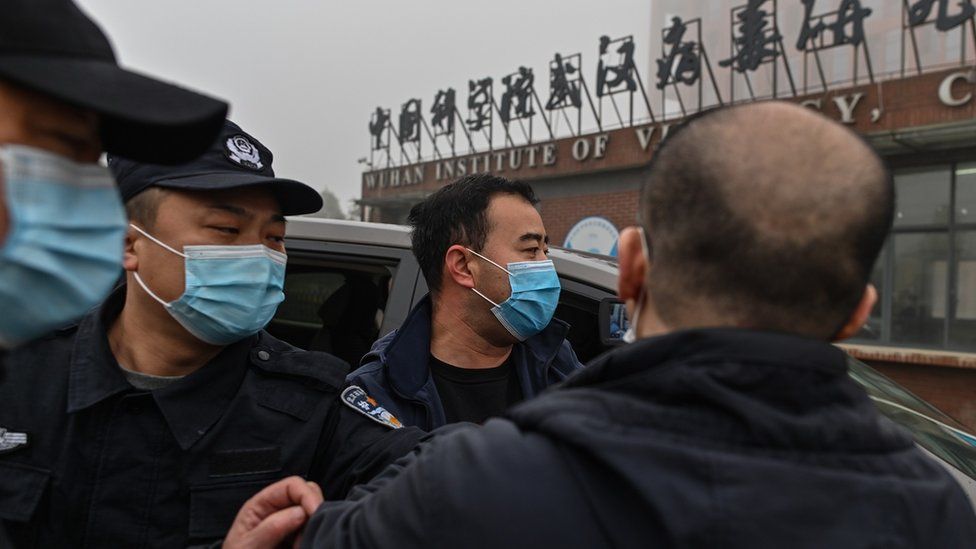 More than three years after Covid-19 was detected in the Chinese city of Wuhan, the question of how the virus first emerged remains a mystery.
But on 28 February 2023 the controversial claim that the pandemic might have leaked from a Chinese laboratory - once dismissed by many as a fringe conspiracy theory - resurfaced with FBI Director Christopher Wray's comments that the bureau believes Covid-19 "most likely" originated in a "Chinese government-controlled lab".
It is the first public confirmation of the FBI's classified judgement of how the pandemic virus emerged.
In response, Beijing accused Washington of "political manipulation".
So what do we know about the competing theories - and why does the debate matter?
What is the lab-leak theory?
It's a suspicion that the coronavirus may have escaped, accidentally or otherwise, from a laboratory in the central Chinese city of Wuhan where the virus was first recorded.
Its supporters point to the presence of a major biological research facility in the city. The Wuhan Institute of Virology (WIV) has been studying coronaviruses in bats for over a decade.
The institute is a 40-minute drive from the Huanan wet market where the first cluster of infections emerged.
Those who entertain the theory say it could have leaked from a WIV lab and spread to the wet market. Most argue it would have been an unaltered virus collected from the wild, rather than engineered.
The controversial theory first emerged early on in the pandemic, and was promoted by then-US President Donald Trump. Some even suggested it could have been engineered as a possible biological weapon.
While many in the media and politics dismissed these as conspiracy theories at the time, others called for more consideration of the possibility. The idea has persisted, despite many scientists pointing out there is no evidence to back it up.
A classified US intelligence report - saying three researchers at the Wuhan laboratory were treated in hospital in November 2019, just before the virus began infecting humans in the city - began circulating in US media in 2021.
But it was reported the Biden administration had shut down a state department investigation, set up by President Trump, into the lab-leak theory.
"That possibility certainly exists, and I am totally in favour of a full investigation of whether that could have happened," Anthony Fauci, President Biden's chief medical adviser, told a US Senate committee hearing in May 2021.
President Biden says he asked for a report on the origins of Covid-19 after taking office in 2021, "including whether it emerged from human contact with an infected animal or from a laboratory accident".
What do scientists think?
The issue is still hotly contested.
A World Health Organization (WHO) investigation was supposed to get to the bottom of it, but many experts believed it produced more questions than answers.
But many have since questioned their findings.
A prominent group of scientists criticised the WHO report for not taking the lab-leak theory seriously enough - it was dismissed in a few pages of a several-hundred-page report.
They're not the only experts who called for the laboratory leak to be looked at more closely.
Even the WHO's own director-general, Dr Tedros Adhanom Ghebreyesus, called for a new investigation, saying: "All hypotheses remain open and require further study."
And Dr Fauci said in 2021 he was "not convinced" the virus originated naturally. That was a shift from a year earlier, when he thought it most likely Covid had spread from animals to humans.
China has hit back at suggestions the virus may have escaped from a laboratory by calling it a smear. State media have consistently accused the US government and Western media of spreading rumours about the source of the pandemic.
Responding to Mr Wray's remarks, China's foreign ministry spokesperson accused US intelligence agencies of politicising the investigation into the origins of the virus.
The US intelligence community had a history of "misdeeds" involving "fraud and deception", Mao Ning told a press briefing. As such, she said, their conclusions regarding the origins of Covid-19 had no credibility.
China has pushed another theory, suggesting the coronavirus may have entered Wuhan in food shipments of frozen meat from elsewhere in China or South-East Asia.
The Chinese government has also pointed to research published by one of its leading virologists into samples collected from bats in a remote, abandoned mine.
Prof Shi Zhengli - often referred to as "China's Batwoman" - a researcher at the Wuhan Institute, published a report in 2021 revealing that her team had identified eight coronavirus strains found on bats in the mine in China in 2015. The paper says that coronaviruses from pangolins pose more of an immediate threat to human health than the ones her team found in the mine.
Added to this is an unsubstantiated conspiracy theory long pushed by Chinese propagandists - and repeated by Mao Ning at the foreign ministry briefing on 1 March 2023 - suggesting the coronavirus was made and leaked from Fort Detrick in Frederick, Maryland, about 80km (50 miles) north of Washington DC.
Once the centre of the US biological weapons programme, Fort Detrick currently houses biomedical labs researching viruses including Ebola and smallpox.
Yes, and it's called the "natural origin" theory.
This argues the virus spread naturally from animals, without the involvement of any scientists or laboratories.
Supporters of the natural origin hypothesis say Covid-19 emerged in bats and then jumped to humans, most likely through another animal, or "intermediary host".
That idea was backed by the WHO report, which said it was "likely to very likely" that Covid had made it to humans through an intermediate host.
This hypothesis was widely accepted at the start of the pandemic, but as time has worn on, scientists have not found a virus in either bats or another animal that matches the genetic make-up of Covid-19, leading some to doubt the theory.
Nevertheless, following FBI Director Wray's remarks, many scientists who have studied the virus have stressed there is no new scientific evidence pointing to a lab leak.
A natural origin is still the more likely theory, said Professor David Robertson, head of viral genomics and bioinformatics at the University of Glasgow.
"There's been an accumulation of evidence (what we know about the viruses biology, the close variants circulating in bats and locations of early human cases) that firmly points to a natural origin centred on the Huanan market in Wuhan city," he said.
Prof Alice Hughes from the University of Hong Kong agreed. She said the US Department of Energy's conclusion that the virus was most likely the result of a lab leak in Wuhan "appears not to be based on new evidence, and remains the weaker of the two main hypothesis of the origin of the virus".
Given the massive human toll of the pandemic - with the recorded deaths of about 6.9 million people worldwide - most scientists think understanding how and where the virus originated is crucial to prevent it happening again.
But there would also be big implications for scientific research and international trade if theories related to a laboratory leak or frozen food chains were confirmed.
"From day one China has been engaged in a massive cover-up," Jamie Metzl, a fellow at the Washington-based Atlantic Council who has been pushing for the lab-leak theory to be looked into, told the BBC in 2021
"We should be demanding the full investigation of all origin hypotheses that's required."
But others have cautioned against pointing the finger at China too quickly.
"We do need to be a bit patient but we also need to be diplomatic. We can't do this without support from China. It needs to be a no-blame environment," Prof Dale Fisher, of Singapore's National University Hospital, told the BBC.