Friends reunion: BTS, Lady Gaga, Justin Bieber censored in China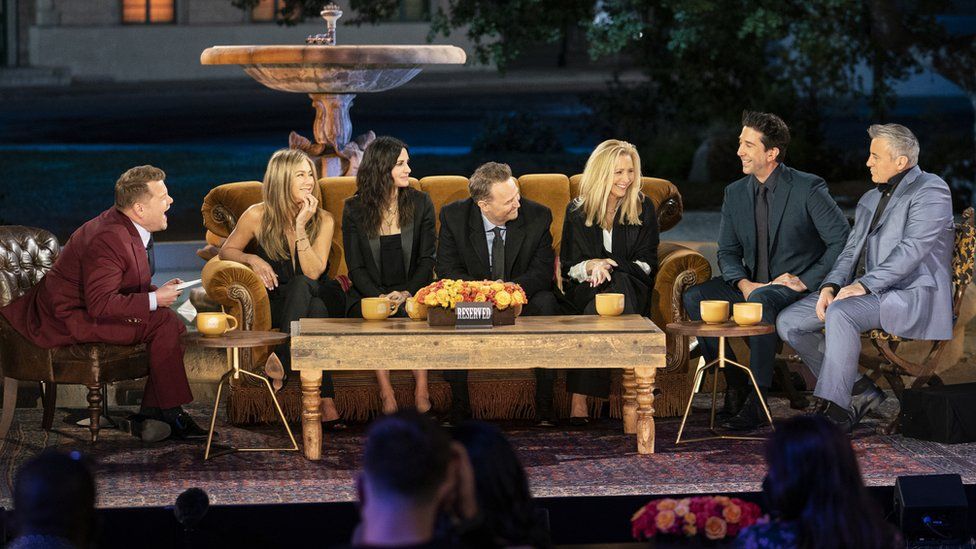 Something was amiss in China's version of the much-anticipated Friends reunion special: guest stars BTS, Lady Gaga and Justin Bieber were nowhere to be seen.
Eagle-eyed fans found the stars were cut on all three Chinese streamers with broadcast rights. LGBTQ references, among other things, were also gone.
It is believed that footage of the stars were cut because they are deemed to have insulted China in the past.
The US sitcom is hugely popular in China, and the censorship upset fans.
"Help! Are we never going to move on and change? This will just make me want to find out more about the cut scenes," one person commented on microblogging platform Weibo.
Some fans have since sourced and shared the deleted clips on social media on their own, while others circulated links to the uncensored, full episode, hosted on piracy sites.
Friends has a massive following in the country, with many Chinese millennials crediting the show with introducing them to American culture and also teaching them English.
The reunion episode had brought all six principal cast members together to talk about their time on the beloved series, along with interviews with celebrities and fans.
It is unclear whether the government had issued a censorship directive, or if streaming platforms iQiyi, Youku and Tencent Video had done it themselves to avoid letting "politically sensitive" content go through.
Many fans noticed that the censorship was not consistent across the board- iQiyi's version had the shortest running time, at least six minutes less than the original runtime of 1hr 44min. Tencent Video's version had cut close to five minutes of footage, while Youku censored around four minutes.
How have BTS, Lady Gaga and Justin Bieber angered China?
In a speech, band leader RM had mentioned South Korea's shared "history of pain" with the US over the 1950-53 conflict, in which the two countries fought together. His remarks angered Chinese social media users, as Beijing backed the North in the war.
In the uncut Friends episode, the superstars were part of a 13-second clip speaking about their love for the show, with RM saying that the sitcom had taught him "the things about life and true friendship."
By showing her support for the Tibetan spiritual leader, she had upset Chinese officials who feel he is a figurehead for Tibetan separatism.
The cut meant that her appearance in the Friends special - where she sings the iconic Smelly Cat song with the sitcom's star Lisa Kudrow - would not have been seen on official Chinese channels.
Chinese audiences also did not see Justin Bieber's appearance in the episode dressed as Spudnik - the potato and satellite-combination suit that Friends character Ross once wore to a Halloween party.
The shrine, which honours fallen warriors and pays tribute to convicted war criminals, is seen in China and South Korea as a symbol of Japan not being sorry for its empire's past.
LGBTQ references, as well as seemingly random references to urine, were censored.
For example, a testimony by gay German fan Ricardo, who described how the show gave him a sense of belonging, was dropped.
"I was a gay man who wanted to be like Jennifer Aniston, so you can imagine how lonely I was," he had said in the original clip.
The Youku platform censored another scene in which a woman pulls her female partner on camera. "Like every Chandler, I found my Monica," she had said.
The streaming platform also censored shots from a scene where Friends star Matt LeBlanc's Joey revealed a picture of Ross stuck to the front of his underwear.
Meanwhile, iQiyi and Tencent both cut out the iconic scene from the sitcom where Monica talks about how Chandler had helped her with a jellyfish sting by peeing on her leg.
It is not uncommon for Chinese broadcasters to censor anything that may be deemed politically or culturally sensitive.
Hip-hop culture, tattoos and cleavage have also been censored in the past.
You may also be interested in...
In 2015, popular Chinese TV drama The Empress of China was re-edited to get rid of the plunging necklines featured in the show - provoking a large amount of public outrage.