#MeToo: China court dismisses landmark sex harassment case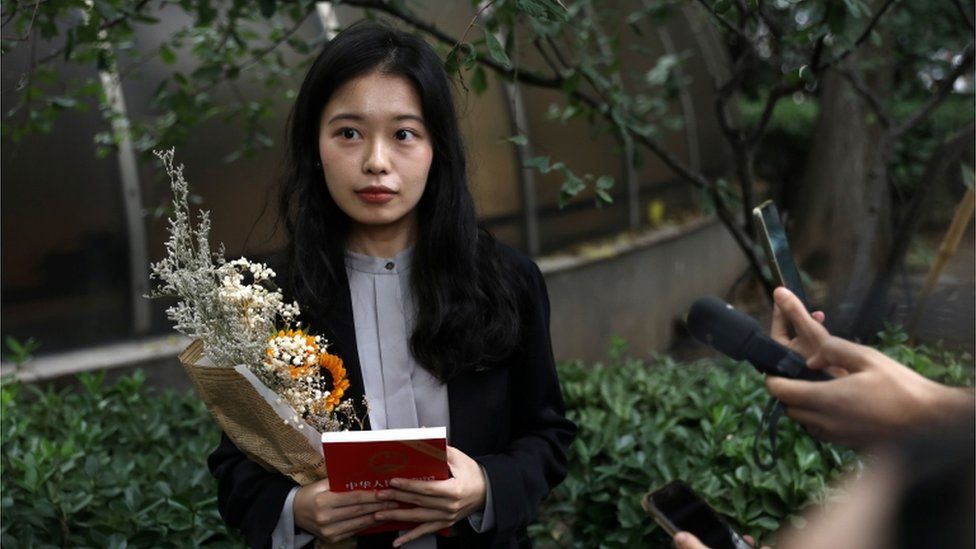 A Beijing court has thrown out a landmark sexual harassment case brought against one of the country's most famous TV hosts.
It ruled that there was insufficient evidence to support the case against Zhu Jun.
The plaintiff had accused Mr Zhu of forcibly groping and kissing her while she was his intern in 2014.
The case helped ignite China's #MeToo movement and has led to increased awareness of women's rights.
Chinese courts rarely grant hearings to such cases, and the country only very recently passed legislation that clearly defined sexual harassment.
Zhou Xiaoxuan, who is more popularly known by her online nickname Xianzi, had first come forward with her claims against Mr Zhu in an online essay in 2018.
The piece went viral and prompted many others to come forward with their own experiences of sexual harassment.
She launched legal action against Mr Zhu, a well-known host at state broadcaster CCTV, that same year. Mr Zhu has denied all the claims.
Following a final hearing on Tuesday, a brief statement released by the Haidian district court in Beijing said it was dismissing the case as Ms Zhou's evidence was "insufficient to prove claims that Mr Zhu engaged in sexual harassment" against her.
Mr Zhu has yet to comment, but Ms Zhou has said in a written statement that she plans to appeal.
She also made an emotional address to her supporters, many of whom had gathered outside the court on Tuesday night.
She spoke of the disappointment and exhaustion she faced in a legal battle that has attracted national scrutiny.
"I feel I cannot do anything anymore... these last three years of my life have been so tough, I can't do another three years," she said tearfully in a video clip filmed and posted online.
The 28-year-old faces a separate lawsuit brought by Mr Zhu, for damaging his reputation and mental well-being.
Chinese law expert Darius Longarino told the BBC that the outcome was an example of how sexual harassment or assault survivors in China "face a steep, almost insurmountable, uphill climb in court" especially if they lack "hard" evidence such as video recordings of the incident, as was the case with Ms Zhou.
He added that with some facing defamation suits from their alleged harassers, and Chinese courts placing the burden of proof on the victims to prove their allegations were true, this "not only makes it difficult for survivors to attain justice" but also deters them from speaking up.
There have been increasing calls for justice for victims in China. In January a new civil code of law came into force, which clarifies what amounts to sexual harassment.
Last week, prosecutors in the north-eastern Shandong province dropped charges in another high-profile case brought by a female employee of tech giant Alibaba, who alleged she was raped by a manager.
In July, Chinese-Canadian pop star Kris Wu was arrested after several women came forward alleging rape and sexual coercion.
You may also be interested in: