China-Taiwan tensions: Xi Jinping says 'reunification' must be fulfilled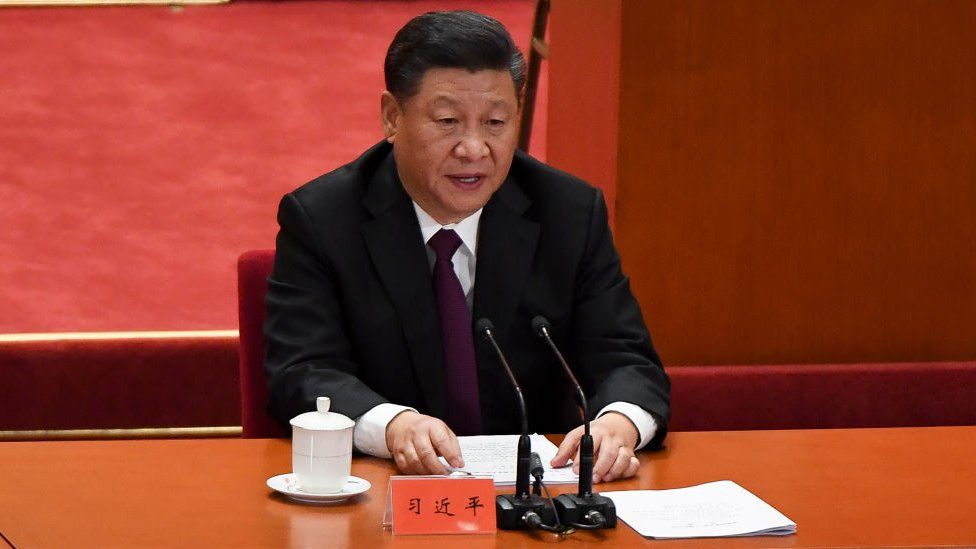 China's President Xi Jinping has said that "reunification" with Taiwan "must be fulfilled", as heightened tensions over the island continue.
Mr Xi said unification should be achieved peacefully, but warned that the Chinese people had a "glorious tradition" of opposing separatism.
In response, Taiwan said its future lay in the hands of its people.
Taiwan considers itself a sovereign state, while China views it as a breakaway province.
Beijing has not ruled out the possible use of force to achieve unification.
Taiwan's defence minister has said that tensions with China are at their worst in 40 years.
But Mr Xi's remarks on Saturday were more conciliatory than his last major intervention on Taiwan in July, where he pledged to "smash" any attempts at formal Taiwanese independence.
Speaking at an event marking the 110th anniversary of the revolution that overthrew China's last imperial dynasty in 1911, he said unification in a "peaceful manner" was "most in line with the overall interest of the Chinese nation, including Taiwan compatriots".
But he added: "No one should underestimate the Chinese people's staunch determination, firm will, and strong ability to defend national sovereignty and territorial integrity."
"The historical task of the complete reunification of the motherland must be fulfilled, and will definitely be fulfilled," he said.
But Taiwan's presidential office said that public opinion was very clear in rejecting one country, two systems. In a separate statement, Taiwan's Mainland Affairs Council called on China to abandon its "provocative steps of intrusion, harassment and destruction".
Shortly before Mr Xi spoke in Beijing, Taiwan's Premier Su Tseng-chang accused China of "flexing its muscles" and stoking tensions.
China and Taiwan: The basics
Why do China and Taiwan have poor relations? China sees the self-ruled island as a part of its territory and insists it should be unified with the mainland, by force if necessary
How is Taiwan governed? The island has its own constitution, democratically elected leaders, and about 300,000 active troops in its armed forces
Who recognises Taiwan? Only a few countries recognise Taiwan. Most recognise the Chinese government in Beijing instead. The US has no official ties with Taiwan but does have a law which requires it to provide the island with the means to defend itself
Despite the recent heightened tensions, relations between China and Taiwan have not deteriorated to levels last seen in 1996 when China tried to disrupt presidential elections with missile tests and the US dispatched aircraft carriers to the region to dissuade them.
And while a number of Western countries have expressed concern at China's displays of military might, US President Joe Biden said Mr Xi had agreed to abide by the "Taiwan agreement".
However, this agreement also allows Washington to maintain a "robust unofficial" relationship with Taiwan. The US sells arms to Taiwan as part of Washington's Taiwan Relations Act, which states that the US must help Taiwan defend itself.
In an interview with the BBC this week, US national security adviser Jake Sullivan said the US will "stand up and speak out" over any actions that may "undermine peace and stability" across the Taiwan Strait.