President Xi Jinping marks China's 50th anniversary at UN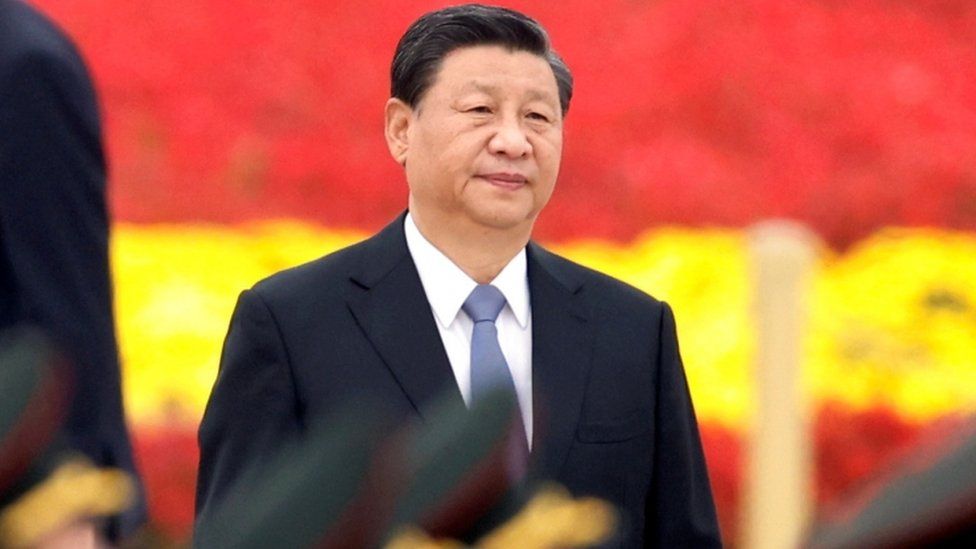 China's president Xi Jinping marked the country's 50 years of membership in the UN with a speech calling for greater global cooperation.
Mr Xi addressed the conference via video link, calling for global cooperation on issues like terrorism and cybersecurity.
He did not mention Taiwan.
China was a founding member of the UN as the Republic of China before the government was ousted by the Chinese Communist Party (CCP).
The rulers of the Republic of China fled to Taiwan, and it was this government that was recognised by the UN as the representatives of China.
But Taiwan lost its seat at the UN after the People's Republic of China- a permanent member of the UN security council - was admitted in 1971.
China sees Taiwan as a breakaway province, while Taiwan claims to be a free and independent country.
However, China's One China policy asserts that there is only one sovereign Chinese government, and that Taiwan is an inseparable part of the country that is to be reunified one day with the mainland.
In his speech on Monday delivered via video link, Mr Xi said that the decision to "recognise the representatives of the government of the People's Republic of China as the only legitimate representatives of China to the United Nations ... was a victory for the Chinese people and a victory for people of the world".
There have been rising tensions between China and Taiwan in recent months.
China has flown military planes and fighter jets into Taiwan's air defence zone, prompting the island's defence minister to say tensions between the two countries were at their worst in 40 years.
Taiwan also accuses China of using its role within the UN to prevent Taiwanese delegates from attending conferences by specialised UN agencies, therefore denying them access to international cooperation in fields like medical sciences and aviation.
What is China's role in the UN?
China's influence in the UN has continued to grow since it joined the organization in 1971.
In 2018, China became one of the largest financial contributors to the UN. Its contribution rose to 12% of the UN budget in 2019 from 7.9% in 2018, making it second only to the US at 22% and surpassing Japan at 9.7%.
In recent years, a growing number of key roles in the organization, like the Head of the Food and Agriculture Organisation (FAO), have been staffed by Chinese nationals.
China has also been accused by critics of using its clout within the organisation to rally support for its treatment of Uyghurs in Xinjiang province.