Peng Shuai: Chinese tennis star makes sexual assault claims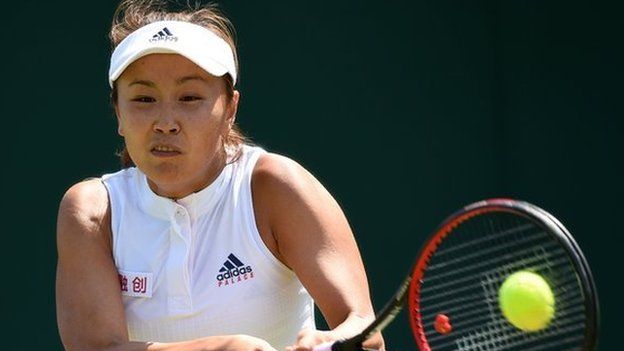 Chinese tennis star Peng Shuai has publicly accused a retired Communist official of sexual assault.
In a post on Chinese social media site Weibo, Ms Peng said former Vice Premier, Zhang Gaoli, had "forced" her to have sexual relations with him.
It is the first time such an allegation has been made against one of China's senior political leaders.
Mr Zhang has not responded to her claims. The post has since been scrubbed from China's internet.
Searches for Ms Peng - a former number one ranked tennis doubles player - also appear to have been restricted.
Mr Zhang, 75, served as China's Vice Premier between 2013 and 2018 and was a close ally of Chinese President Xi Jinping.
"I know that someone of your eminence, Vice Premier Zhang Gaoli, you'll say that you're not afraid", Ms Peng wrote in her post, "but even if it's just striking a stone with a pebble, or a moth attacking a flame and courting self destruction, I will tell the truth about you."
She said he had first coerced her after she visited his home to play tennis. "That afternoon I didn't give my consent and couldn't stop crying," she wrote. "You brought me to your house and forced me and you to have relations".
Ms Peng, 35, acknowledged that she would not be able to provide proof to back up her claims.
"I have no evidence, and it has been impossible to leave any evidence... You were always afraid that I would bring something like a tape recorder, to record evidence or something... There is no audio record, no video record, only my distorted but very real experience."
The tennis star's social media post is the latest development in a series of high profile MeToo cases in China. A popular TV host, Zhou Xiaoxuan, came forward with her claims against another TV personality, Zhu Jun in an online essay in 2018.
The piece went viral and prompted many others to come forward with their own experiences of sexual harassment. Mr Zhu has denied all the claims.
Though Ms Zhou launched legal action against Mr Zhu, the case was dismissed in September.
Chinese courts rarely grant hearings to such cases, and the country only very recently passed legislation that clearly defined sexual harassment.
In her tennis career, Ms Peng has won two Grand Slam women's doubles trophies, the first at Wimbledon in 2013 and the second at the Roland Garros tournament in 2014, both alongside Taiwan's Hsieh Su-wei.
Clampdowns and creative solutions
By Kerry Allen, China media analyst
Peng Shuai is a big star, and a search of her on China's most popular search engine, Baidu, shows up more than seven million results.
But there is evidence of a huge clampdown on the popular Sina Weibo microblog - China's equivalent of Facebook - to stop people talking about her.
A search of her name shows only some 700 results and users see no results at all when they search for her account, despite her having more than half a million followers. ​
Weibo users are screened from seeing comments posted by ordinary social media users - search results on Weibo only show posts by verified government media accounts. The word "tennis" in Chinese similarly only shows verified results, and not posts by ordinary users.
Search result restrictions are commonly imposed when a topic becomes sensitive, as historically, outright censoring sensitive words has made censorship appear much more obvious.
The names of China's top leadership, past and present, have long been sensitive words on Sina Weibo. Users have been unable to search for ordinary comments left by users on China's Politburo, and have only seen posts by official media.
However, social media users have long found creative workarounds to get their voices heard. Some users are talking about her by commenting on posts about another tennis player, Zhang Shuai.
Historically, users have also used the words for "rice" and "rabbit" to talk about the Me Too movement, as the Chinese words for rice and rabbit are pronounced "me too".