Peng Shuai: Doubt cast on email from Chinese tennis star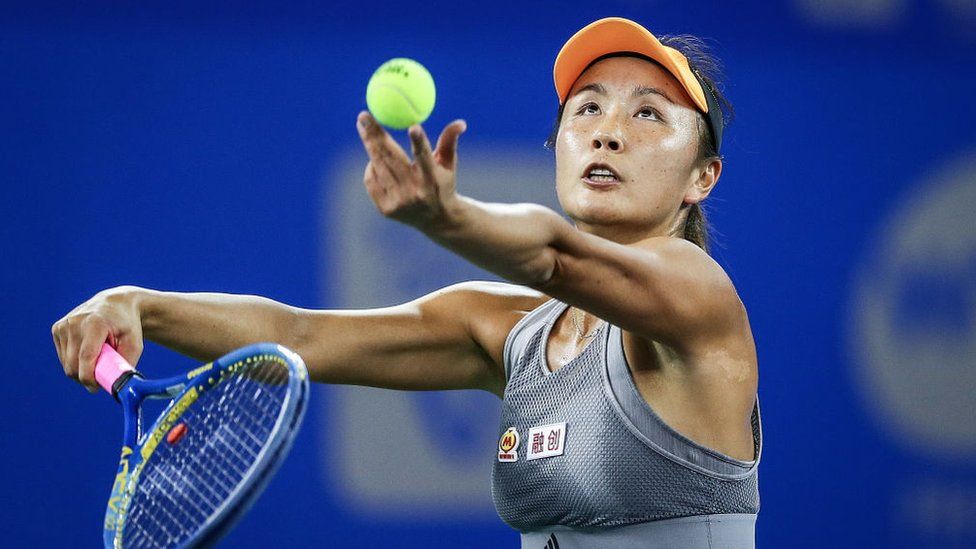 The head of the Women's Tennis Association (WTA) has cast doubt on an email released by Chinese state media attributed to tennis player Peng Shuai.
The tennis star has not been heard from since she made sexual assault allegations against a top Chinese government official two weeks ago.
In the email, Ms Peng purportedly says the allegations are "not true".
Steve Simon, chairman of the WTA, said the message "only raises" his concerns about Ms Peng's safety.
"I have a hard time believing that Peng Shuai actually wrote the email we received or believes what is being attributed to her," he said in a statement.
Rights group Amnesty also said the words "should not be taken at face value" but the International Olympic Committee (IOC) said it favoured "quiet diplomacy" and would not comment.
Written in her voice and published by the broadcaster CGTN, the email claims she is not missing or unsafe, adding: "I've just been resting at home and everything is fine."
Ms Peng - a former number one-ranked tennis doubles player - had not been heard from since posting an allegation about former Vice Premier Zhang Gaoli on Chinese social media site Weibo in early November.
She alleged she was "forced" into sexual relations with Mr Zhang - who served as the country's vice-premier between 2013 and 2018 - in a post that was later taken down. She has not been seen or heard from publicly since.
The WTA and leading voices from the world of tennis have increasingly spoken out about Ms Peng since.
On Thursday, the spokesman for China's foreign ministry did not give further details about the situation when asked by reporters.
"This is not a foreign affairs matter," Zhao Lijian said. "And I am not aware of the relevant situation you mentioned."
Former women's world number one and 23-time Grand Slam winner Serena Williams said news of Ms Peng's disappearance had left her "devastated and shocked".
"I hope she is safe and found as soon as possible. This must be investigated and we must not stay silent," she added in a tweet.
Earlier this week, world number one male tennis player Novak Djokovic said he hoped Ms Peng was OK, adding that he was shocked, while Naomi Osaka also voiced concerns about her whereabouts. More tennis players and social media users have since posted under the hashtag #WhereIsPengShuai.
"The WTA and the rest of the world need independent and verifiable proof that she is safe," WTA chair Steve Simon said on Wednesday.
He also reiterated that her sexual assault allegation must be investigated "with full transparency and without censorship".
"The voices of women need to be heard and respected, not censored nor dictated to," he added.
Mr Simon's comments were echoed by Amnesty.
"China's state media has a track record of forcing statements out of individuals under duress, or else simply fabricating them," said Amnesty's China researcher, Doriane Lau.
"These concerns will not go away unless Peng's safety and whereabouts are confirmed."
Meanwhile, the International Olympic Committee said in a brief statement that "experience shows that quiet diplomacy offers the best opportunity to find a solution for questions of such nature".
"This explains why the IOC will not comment any further at this stage," it said. Beijing is due to host the Winter Olympics in February.
I am devastated and shocked to hear about the news of my peer, Peng Shuai. I hope she is safe and found as soon as possible. This must be investigated and we must not stay silent. Sending love to her and her family during this incredibly difficult time. #whereispengshuai pic.twitter.com/GZG3zLTSC6

— Serena Williams (@serenawilliams) November 18, 2021
Ms Peng, 35, is a prominent figure in Chinese tennis. She has won two women's doubles Grand Slams at Wimbledon in 2013 and the 2014 French Open, both alongside Taiwan's Hsieh Su-wei.
Ms Peng has more than half a million followers on Weibo, the Chinese equivalent of Twitter.
Her post containing the sexual assault allegations was taken down only minutes after it was posted on 2 November, and other recent posts from her account have also been removed.
For Weibo users now searching for Ms Peng's name online, it is still possible to find her account but it is no longer possible to write comments beneath her remaining posts.
Ms Peng hasn't been seen in public nor heard from in weeks. Now an email appears and the language appears flippant.
The image released by the state controlled TV network CGTN appears to be a screenshot, with a cursor hovering on the page. All of which has raised immediate suspicions about its authenticity.
No other domestic media outlet has picked it up.
Prominent people do disappear from view in China. Sometimes it's billionaire businessmen. It's not usually athletes.
Sporting success, like Ms Peng's, has become a key component of the ruling Communist Party's soft power push. That is, however, yet to include a #MeToo moment.