Hong Kong: Media tycoon Jimmy Lai gets 13 months jail for Tiananmen vigil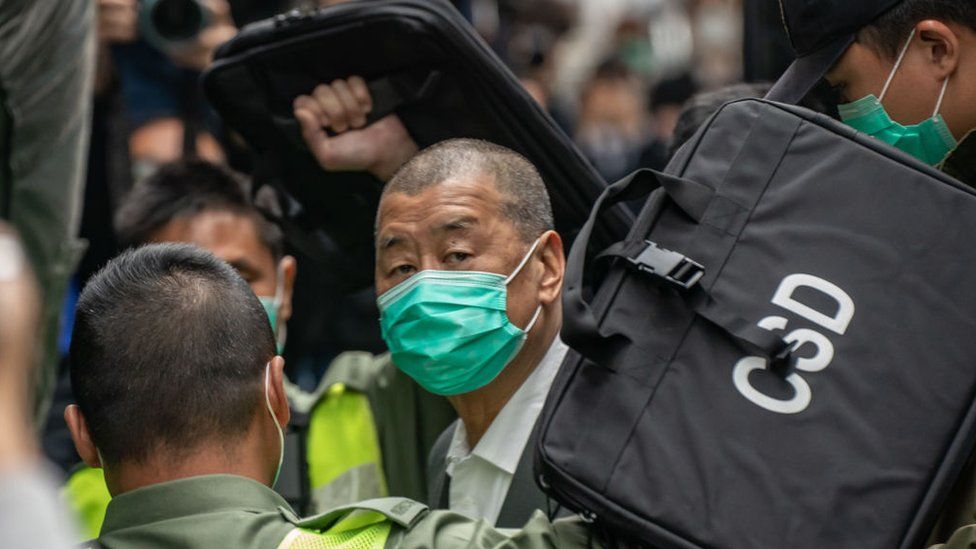 Hong Kong media mogul Jimmy Lai has been sentenced to 13 months in jail for participating in a vigil marking the 1989 Tiananmen massacre in Beijing.
The 74-year-old was found guilty last week of inciting others to take part in an unlawful assembly.
More than two dozen Hong Kong politicians and activists have been charged over the vigil.
Lai was one of eight activists sentenced on Monday. They included prominent names like journalist-turned-opposition politician Gwyneth Ho and lawyer Chow Hang Tung.
The sentences for the eight range from four-and-a-half months to 14 months.
Judge Amanda Woodcock announced the sentences following a mitigation hearing in which Lai's lawyers presented a handwritten letter he had written from prison.
The BBC is not responsible for the content of external sites.
In the letter, Lai said he was willing to suffer the penalties of his decision.
"If commemorating those who died because of injustice is a crime, then inflict on me that crime and let me suffer the punishment ... so I may share the burden and glory of those young men and women who shed their blood on 4 June [1989]" Lai wrote.
Earlier in the trial, Lai had argued that he had lit candles during the vigil in a personal capacity, and had not "incited" others to join the unauthorised rally.
However Judge Woodcock dismissed the arguments, and said their participation "was an act of defiance and protest against the police".
Lai, who is already serving a prison sentence for an earlier charge, will serve his latest sentence concurrently.
He is the founder of the now-defunct Apple Daily newspaper in Hong Kong, and has been one of the most prominent supporters of the city's pro-democracy movement.
The tycoon faces other charges - some under a sweeping national security law imposed last year, which can carry a maximum term of life in prison.
Hong Kong was handed back to China in 1997 under a deal which gave the former British colony freedoms not available in mainland China. Dozens of activists have been arrested, jailed or have fled the territory since the security law came into force.
What was the Tiananmen vigil about?
The annual vigil has taken place in Hong Kong for decades, often attracting tens of thousands who gather to mark the anniversary of Chinese troops crushing peaceful pro-democracy protests in Beijing's Tiananmen Square on 4 June 1989. International condemnation ensued after troops and tanks opened fire on protesters.
Hong Kong used to be one of the very few places in China where the incident could still be commemorated or even talked about - it is highly sensitive in mainland China, which bans any events marking the incident and scrubs mentions from social media.
But in 2020 Hong Kong authorities banned the vigil for the first time in 30 years, citing Covid restrictions. Activists accused officials of bowing to pressure from Beijing to muzzle pro-democracy expression.
Tens of thousands of people defied the ban to attend the vigil that night, knocking down barricades that had been erected around Hong Kong's Victoria Park.
The ban on the vigil continued this year, and saw a more muted protest.