China: Xi'an residents in lockdown trade goods for food amid shortage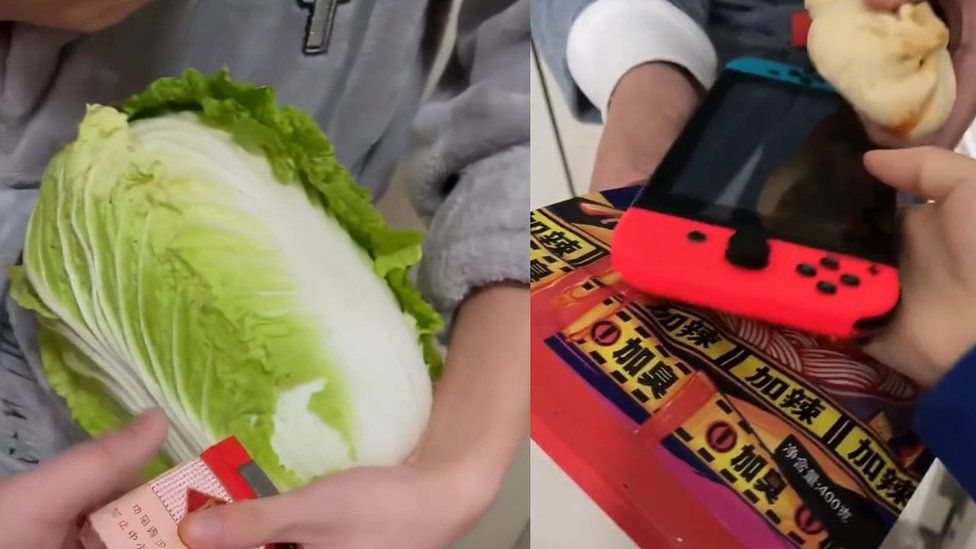 People quarantined in the Chinese city of Xi'an are bartering supplies amid continuing worries over food shortages.
Social posts show locals swapping cigarettes and tech gadgets for food. About 13 million have been confined to their homes since 23 December.
The strict measures come ahead of the Lunar New Year and the Winter Olympics due to be held in Beijing next month.
Overnight, the city of Yuzhou was shut down after the discovery of just three cases, all of them asymptomatic.
Yuzhou, with a population of 1.1 million, has closed its transport system and entertainment venues and banned almost all vehicles from the roads. All but essential food shops are shut, with only workers involved in epidemic prevention allowed out.
The outbreak in the much larger city to the west is the worst China has seen in months as it continues a "zero Covid" strategy, seeking to stamp out the virus rather than try to live with it.
Authorities in Xi'an have been providing free food to households, but there have been numerous complaints on social media. Some residents said their supplies were running low or that they had yet to receive aid.
Videos and photos on social media site Weibo showed people exchanging cigarettes for cabbage, dishwashing liquid for apples, and sanitary pads for a small pile of vegetables.
One video showed a resident appearing to trade his Nintendo Switch console for a packet of instant noodles and two steamed buns.
"People are swapping stuff with others in the same building, because they no longer have enough food to eat," a resident surnamed Wang told Radio Free Asia. The news outlet also reported that another man had wanted to trade a smartphone and tablet for rice.
"Helpless citizens have arrived at the era of bartering - potatoes are exchanged for cotton swabs," one Weibo user said, while another described it as a "return to primitive society".
Some were more optimistic though, and commented on how "touched" they were by their neighbours' kindness in sharing their supplies with them.
Xi'an is at the epicentre of China's current Covid outbreak, and local authorities have enacted drastic measures which have attracted significant criticism online.
Netizens were also shocked by an unverified post that went viral on Monday. A Xi'an resident said their father had died after he suffered a heart attack and was turned away from a hospital due to the city's Covid situation. The hospital has yet to respond.
Covid first appeared in China and up until a few weeks ago the government had managed to contain it to such a level that new cases were negligible and mainly coming from people arriving from abroad.
What Beijing calls its "dynamic zero Covid" strategy combines mass vaccination with a regime of constant testing, nationwide monitoring of people's movements, temperature-taking and phone apps to prove you don't pose a threat. All of that amounts to hyper vigilance about any new outbreak - if and when one is spotted the reaction is severe.
China has been wedded to this approach since the beginning because it's likely the leaders from Xi Jinping down consider anything less would cause illness and death on a scale that would be politically, economically and socially unacceptable. The ruling Communist Party took much of the credit for containing the virus early on - after it had spread beyond China's borders - and diverting from that would undermine its credibility.
There is a broad acceptance of this approach, and the stringent restrictions it can bring, among many Chinese who for decades have not felt they can rely much on the public health system. So illness and the prospect of losing your job, let alone your life, are existentially daunting.
Add to that the prestige attached to - safely - hosting another Olympic Games in a few weeks' time and the fast approaching Chinese New Year mass migration of millions across this country and there is clearly little doubt the government will remain committed to "zero Covid" for the foreseeable future.
You may also be interested in: