India investigators probe deadly train fire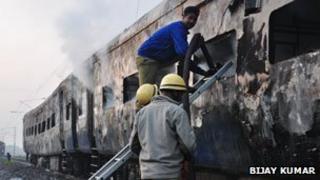 Indian forensic experts are still trying to find the cause of a fire on a passenger train in Jharkhand state on Tuesday that left seven people dead.
Railway Minister Dinesh Trivedi said one passenger had seen a man leaving a bag that emitted smoke in one of the affected coaches.
But other passengers have said the fire started after an air-conditioning unit was turned off and a heater turned on.
An Australian woman researcher was one of those killed.
Two air-conditioned coaches of the Doon Express train travelling to Dehradoon from Howrah caught fire early on Tuesday.
Mr Trivedi told reporters that one passenger reported seeing a man boarding the train "carrying a bag that emitted a foul smell and smoke" and leaving it in one of the coaches.
The fire, he said, had broken out soon after that, as the train travelled between Nimiaghat and Parasnath stations in Jharkhand.
The minister said he would not like to speculate on the cause of the fire, and was waiting for the investigation to be completed.
Jharkhand Chief Minister Arjun Munda on Wednesday expressed condolences to the families of the victims.
Accidents are common on the state-owned Indian railways, an immense network connecting every corner of the country.
It operates 9,000 passenger trains and carries some 18 million passengers every day.