Kashmiris acquitted of attacking cricket pitch in 1983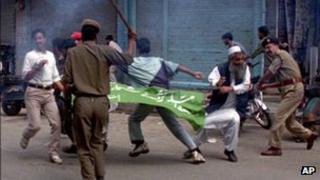 Twelve men accused of digging up a cricket pitch at the first international match held in Indian-administered Kashmir have been acquitted - 28 years later.
The men were accused of attacking the pitch during the lunch break of the India-West Indies one-day game in 1983.
A court in Srinagar ruled there was a lack of evidence.
The match was volatile. The "home side" were booed by supporters of the separatist cause and lost the game.
Kashmir is divided into Pakistani- and Indian-administered areas with both nations claiming the region in its entirety.
Only one other international cricket match has ever been staged in Indian-administered Kashmir - when India lost another one-day game to Australia in 1986.
'Random arrests'
The 12 men were arrested on 13 October 1983 at the Sher-e-Kashmir cricket stadium in Srinagar after dozens of people invaded the ground during the lunch break and damaged the pitch.
It was not severe enough to halt the game, which the West Indies won by 28 runs.
The men were freed on bail in 1984, with some even joining the subsequent insurgency against Indian rule. Charges were filed in 1989.
One of those charged was Showket Bakshi. He told Agence France-Presse after the ruling: "All of us have been acquitted as the prosecution failed to produce any evidence against us."
He was jailed in 1990 on charges relating to the insurgency and said that during his 12 years behind bars he did not appear in court once to face charges over the cricket pitch.
Mr Bakshi told the Press Trust of India that "police randomly arrested people including a man who was supporting the Indian cricket team".
Another of those acquitted, leading separatist Shabir Shah, said: "I am happy to be acquitted but this also highlights the system of justice. They kept this case lingering for 22 years and it was used by state authorities to deny us basic rights such as travelling abroad."
The staging of the 1983 event was controversial and vehemently opposed by those struggling against Indian rule.
The crowd cheered the runs scored and wickets taken by the West Indies.
One of those at the game, Mubarak Ahmad, said: "Soon after the match started, spectators threw broken bottles, stones and trash at the Indian team. It was a free for all."
District and Sessions judge, Kaneez Fatima, one of dozens of judges who have presided over the case, on Monday finally acquitted the accused for a lack of evidence.
Defence counsel Mir Urfi said the list of accused was 21, and the fate of the remaining nine was not yet known.