Surrogate baby for Bollywood's Aamir Khan and Kiran Rao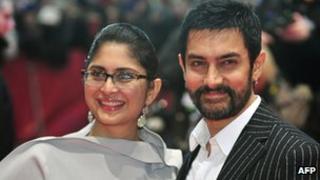 Bollywood actor and director Aamir Khan and his wife Kiran Rao have become parents to a baby boy born to a surrogate mother.
The baby was born on 1 December at a private clinic in Mumbai and is the couple's first.
The baby is "especially dear to us because he was born... after a long wait and difficulty," the couple said in a statement confirming the birth.
Khan is one of India's most successful actors.
This is Aamir Khan's third child. He has two with his first wife, Reena Dutta, with whom he was married for 15 years.
The 46-year-old Khan met Kiran Rao, 38, on the set of his hit film, Lagaan, in 2001. They were married in 2005.
Due to medical complications, the couple were "advised to have a baby through... surrogacy," they said in the statement.
"We are humbled by the greatness of God, miracles of science and the... love of our families and friends," they said.
Kiran Rao had had a "couple of miscarriages in the past", their publicist told Agence France-Presse news agency.
Last week Khan was named Unicef's India brand ambassador to help support its work in promoting child rights and the nutrition of children under two years old.
Khan has starred in many successful films, including Rang de Basanti, Three Idiots and Ghajini.