India's Bhanwari Devi case: Mahipal Maderna questioned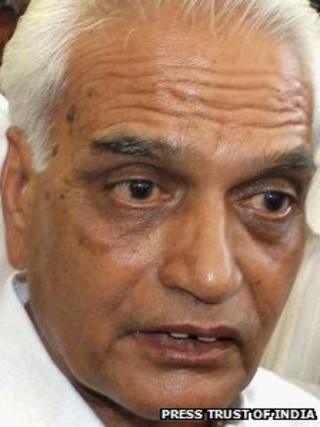 Indian police are questioning a former minister in Rajasthan over his alleged involvement in the mysterious disappearance of a government nurse.
Mahipal Maderna was arrested on Friday night and brought to Delhi on Sunday.
Bhanwari Devi went missing on 1 September. She is presumed dead but her body has yet to be found.
Police charges had earlier been filed against Mr Maderna and several others in connection with her alleged rape and murder. He says he is innocent.
Mr Maderna was linked to the case after footage emerged that reportedly showed his contact with Ms Bhanwari.
The federal Central Bureau of Investigation says it has evidence that Mr Maderna was in touch with the nurse around the time of her abduction.
He has been remanded in custody until 9 December.
Rajasthan police named Mr Maderna as one of the accused only after a court order. He has also been charged with criminal conspiracy.
Rajasthan's high court criticised state police for "going slow on the case" and accused the state government of acting to try to save the politician.
The case was later handed to the CBI.