Australian Andrew Symonds enters 'Bigg Boss' in India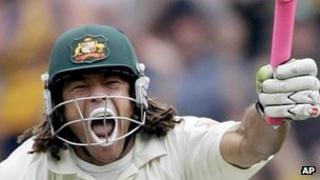 Australian cricketer Andrew Symonds is the latest celebrity in India's version of Big Brother, Bigg Boss.
Symonds arrived in the western city of Mumbai, where the Bigg Boss house is, on Tuesday morning.
He is the first international cricketer to enter the house and he is "hoping to have a lot of fun" and learn more about Indian culture, he said.
US actress Pamela Anderson was a guest last year and Canadian porn star Sunny Leone is in the house currently.
Symonds, a wild card entrant, is expected to be taken into the Bigg Boss house on Wednesday.
He admits he has not seen any of the episodes yet as he did not want to enter "with a biased opinion of the other contestants".
In 2008, Symonds got into a public spat with Indian off-spinner Harbhajan Singh when he accused Singh of racially abusing him.