Sachin Tendulkar: An unsurpassable record?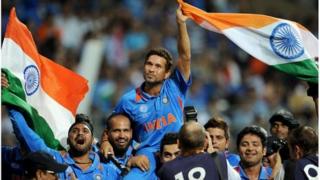 Around 1900, it was widely believed that physics had reached the end of the road and that everything had been discovered. Only minor details needed to be filled in, the science was complete.
Almost on cue, along came quantum physics and Mr Einstein's theories of relativity.
Sporting records are a bit like that.
Pundits decide things can't get better, and they do.
When Bob Beamon leaped to his magical 8.90 metres in the rarefied atmosphere of Mexico, many believed the record would stand forever. It didn't last a quarter of a century.
Among cricketing records, two have always had the stamp of permanence upon them: Don Bradman's career Test average of 99.94 and Jim Laker's match figures of 19 for 90.
Recently a third was added - Muthiah Muralitharan's 800 Test wickets.
Now a fourth has joined that group - Sachin Tendulkar's 100 international centuries.
You only have to look at the second-best to see this - Ricky Ponting's 71.
The best after Tendulkar's 51 Test centuries is Jacques Kallis on 42; after his 49 one-day centuries is Ricky Ponting's 30. Not in the same ball park, not in the same city, country or planet.
When Tendulkar began his career as a 16-year-old, satisfaction meant 35 Test centuries, perhaps another 25 in one-dayers for a grand total of 60 international centuries.
It seemed his fans were more obsessed with his ambitions than he was. After each achievement, he was issued with new targets.
Now, with the future of Test cricket under discussion, including a possible reduction in the number of matches, the cliche that records are there to be broken may not hold.
Batsmen, like detectives in a murder mystery, must have means, motives and opportunities.
Then there is the question of age. The spirit may be willing, but perhaps not the flesh at 40.
It is easy to see why beating a career Test average of 99.94 is out of reach. The next best after Bradman (among those who have played more than 50 Tests) is Herbert Sutcliffe's 60.73.
As for Laker, only two wickets have to fall to a second bowler or a run out and his record is safe. To take 10 wickets twice in a match is as close to an impossibility in sport as you can get. The best after Laker's 19 is nearly a century old: Sid Barnes's 17 for 159.
Moveable feast
Tendulkar is a modest man who, like Alexander the Great, has no more worlds to conquer.
But for someone to score 100 international centuries he would need to begin his career early and play through two decades averaging five per year. That's as tall as orders get.
Indian cricket is based on passion, on easily-stirred emotions; players are worshipped for what they do, romance trumps realism, sentiment pushes out logic and reason.
A Tendulkar ton in defeat is feted more heartily than a 40 in victory.
That is why few are concerned that only 53 of Tendulkar's first 99 international centuries were in winning causes.
Yet today, it is somehow different.
To adapt Hemingway, if you are lucky enough to have followed Tendulkar's career, then wherever you go for the rest of your life, he stays with you. For Tendulkar is a moveable feast.
Suresh Menon edited an anthology of writings on Sachin Tendulkar. His latest book, Bishan, is a biography of the Indian spin bowling legend Bishan Singh Bedi