Key report on India anti-corruption Lokpal bill tabled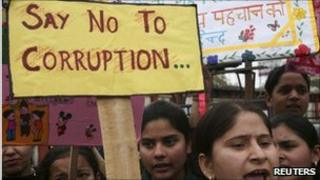 A report on a controversial bill to set up an anti-corruption watchdog has been submitted in India's parliament.
The bill was tabled in parliament in August but was sent to a panel of MPs after protests from anti-corruption activists who said it was too weak.
Anti-corruption campaigner Anna Hazare has rejected the new draft too, saying it does not go far enough as it does not include lower-level bureaucracy.
He has announced plans to call a one-day strike in Delhi on 11 December.
India has recently been hit by a string of high-profile corruption scandals.
Politicians, civil servants and business leaders are accused of robbing the state of billions of dollars, badly damaging the government's reputation.
The Lokpal bill envisages setting up an independent ombudsman.
The report on the bill was tabled on Friday in the Rajya Sabha [Upper House] by Congress MP Abhishek Manu Singhvi, chairman of the parliamentary Standing Committee on Law and Justice, Public Grievances and Personnel.
In the Lok Sabha [Lower House], committee member Pinaki Misra tabled the report and the evidence given before the panel during its deliberations.
'Wisdom of parliament'
On Wednesday, Mr Singhvi said the report had been adopted, although some MPs registered dissent.
The proposed ombudsman would have the power to investigate and prosecute politicians and civil servants.
The judiciary and conduct of MPs in parliament have been kept out of the Lokpal's ambit.
Mr Singhvi said the issue of whether the prime minister would be brought under the ambit of Lokpal had been left to the "wisdom of parliament".
On Friday, anti-graft campaigner Anna Hazare criticised the draft bill, saying it was too weak.
"If a strong Lokpal bill is not passed, I will campaign against the Congress party during the next elections," he said.
Mr Hazare has been insistent on his demand that the prime minister be covered under the Lokpal.
Mr Hazare went on hunger strikes in Delhi in April and August demanding a tough anti-graft law.
Among India's recent corruption scandals are an alleged multi-billion dollar telecoms scam, claims of financial malpractice in connection with the Delhi 2010 Commonwealth Games and allegations that houses intended for war widows ended up in the hands of civil servants.
A recent survey said corruption in India had cost billions of dollars and threatened to derail growth.