India telecoms fraud case: New accused named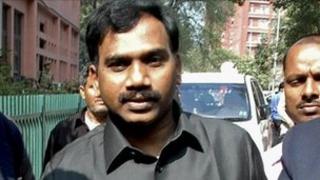 India's central investigating agency, the CBI, has charged five more people with fraud and conspiracy in the country's biggest corruption scandal.
Officials have confirmed that charges have been filed against top executives of Essar and Loop Telecom in the alleged telecoms scam.
All the accused deny the charges.
Fourteen people are already on trial for the alleged mis-selling of telecoms licences which auditors say cost the country about $40bn (£24.5bn).
A spokesperson for the CBI said Essar's Ravi Ruia, Anshuman Ruia and Vikas Saraf, and Loop Telecom's Kiran Khaitan and IP Khaitan were the new accused.
Reports say the new charges against the two corporate groups will not be heard by the special CBI court that is trying former telecoms minister A Raja and 13 others.
Loop is one of the companies accused by the auditor of supplying misleading information in its licence bid in 2008. Essar has a less than 10% stake in Loop.
Essar denied any involvement in the scam, criticising the filing of the charges.
"The CBI and the attorney general have gone contrary to the opinion given by the ministry of law and justice and the ministry of corporate affairs. The CBI has also gone against their internal legal advice," it said.
Essar said it would consider its own legal action.
Damaged reputation
The trial of the 14 is expected to be long and complex. Some 150 witnesses are scheduled to appear.
If found guilty, the defendants could face a maximum sentence of life imprisonment.
The telecoms scandal has badly damaged the reputation of the government, which has been hit by a series of corruption cases.
Only Mr Raja, former Telecoms Secretary Siddhartha Behura and RK Chandolia, who was private secretary to Mr Raja, have been denied bail.