India cricket board BCCI cancels Nimbus broadcast deal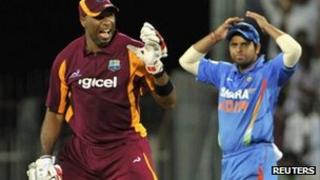 The Board of Control for Cricket in India (BCCI) has terminated a broadcast deal with Nimbus over non-payment of dues.
Nimbus holds telecast rights for all of the BCCI international and domestic matches played at home.
BCCI officials said the contract was terminated because Nimbus had not paid the 50% advance for both the recent England and West Indies series.
The company would also have to forfeit $388m (£247m) of bank guarantees.
The decision was taken at a meeting of the BCCI's Working Committee in Delhi on Monday.
Nimbus, which renewed its rights for Indian cricket in 2009, had requested a delay in payment.
Correspondents say the development will affect the finals of the domestic Ranji Trophy, which begin on 16 December.