Alarm after Indian train takes wrong turn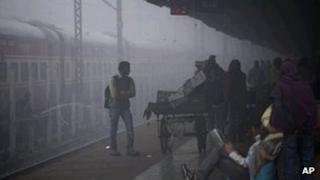 An Indian passenger train travelled several kilometres on the wrong track before the driver was alerted.
The Coalfield Express was travelling from Howrah near Calcutta in West Bengal state to Dhanbad, in neighbouring Jharkhand state.
Railway officials say the track splits into two at Khana station and the train took the wrong track.
Some reports said the driver became confused by heavy fog. Officials said an inquiry had been launched.
The incident occurred on Monday evening, with railway officials saying the train had gone north rather than west at Khana.
"While the train was supposed to take the track towards Dhanbad, it went towards Bolpur. The staff at Talit station spotted the error and sent the train back," Samir Goswami, spokesman for the Eastern Railways, said.
An investigation has been launched to find out who was at fault, he told the BBC.
Reports said the train travelled almost seven kilometres (four miles) before the error was spotted.
Trains on the wrong track are a major cause of accidents on Indian railways.
More than 60 people died last year when a passenger train collided with a stationary train at Sainthia station - on the same line where Monday's incident happened.