India newlyweds' families file Las Vegas crash lawsuit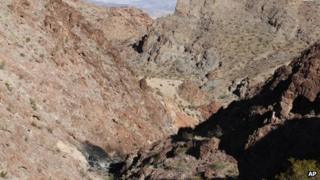 Relatives of a newlywed Indian couple who died in a tourist helicopter crash in Las Vegas last week have filed a lawsuit alleging wrongful death.
The civil lawsuit names Sundance Helicopters, which was conducting the sightseeing trip in which four tourists and the pilot were killed.
A lawyer for the families of Lovish Bhanot, 28, and Anupama Bhola, 26, said they were "heartbroken".
An initial report spoke of unexplained turns by the helicopter.
'Abnormal manoeuvres'
Gary Robb, the lawyer for the Indian couple's families, said: "The families are heartbroken by these deaths and they want answers."
A National Transportation Safety Board preliminary report released on Tuesday said there were unexplained turns and a sudden climb by the AS350-B2 helicopter shortly before it crashed in a remote ravine.
"The left turn and climb are not part of the normal route," the report said.
The helicopter was built in 1989 and underwent maintenance the day before the crash during which the engine and parts of the rotors were replaced.
Reports suggested power had not been cut off at the time of the crash, four miles (6.4km) west of Lake Mead.
Mr Robb told Associated Press news agency: "All indications are that they had an inflight loss of control. That's the only possible explanation for the erratic and abnormal manoeuvres prior to the crash."
Sundance Helicopters said there had been no distress call.
The aircraft was touring the Las Vegas Strip and Hoover Dam at sunset.
Delwin and Tamara Chapman, from Utica in the US state of Kansas, who were celebrating their 25th wedding anniversary, also died.