India and Russia fail to extend nuclear plant plan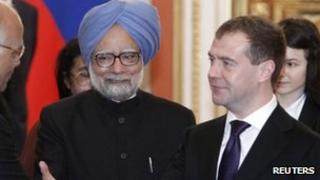 Indian PM Manmohan Singh and Russian President Dmitry Medvedev have failed to sign a deal to extend a controversial nuclear project.
On his two-day visit to Russia, Mr Singh said work on two units at the Koodankulam plant in Tamil Nadu would be completed.
But there was no deal on units three and four. The $3bn nuclear plant has been beset by protests over safety.
Russia has also backed India's bid for a permanent UN Security Council seat.
At the talks, India also signed a deal for 42 Sukhoi Su-30MKI fighter jets.
UN reform
Mr Singh said unit one at Koodankulam would be operational in a "couple of weeks" and unit two would be commissioned within six months, the Press Trust of India reported.
He said "temporary problems" with protests over safety would be overcome.
The contract for the other two units had been expected to be signed but this did not take place.
Before the talks, Mr Singh said India would fulfil its commitments on increased nuclear cooperation with Russia.
"The protests at Koodankulam reflect the concerns of people about the safety of nuclear energy," Mr Singh told Russian media.
He said the government took people's concerns "seriously", but that nuclear cooperation between India and Russia "would continue".
Mr Singh and Mr Medvedev also discussed other defence and economic issues.
A joint statement said Russia backed India's bid for a permanent UN Security Council seat and urged reform of the council, to make it "more representative and effective".
Mr Singh said India would assemble the new Sukhoi Su-30MKI jets and fit them with additional electronics.
The two countries have had close links since Soviet times.
A Cold War ally and for many years the default weapons supplier to India, Russia has faced tough competition in recent years from Europe and the US for a slice of Delhi's booming defence market.
Wary of its rising regional rival, China, India is now one of the world's largest buyers of fighter jets, tanks, submarines and other defence equipment.
Russia also has other contracts with India, in particular the modernisation of weapons already delivered. By one estimate, 80% of India's army is equipped with Russian hardware.
Delhi and Moscow have also agreed to double bilateral trade from the current $9bn over the next four years.