India government 'confident' of tabling Lokpal bill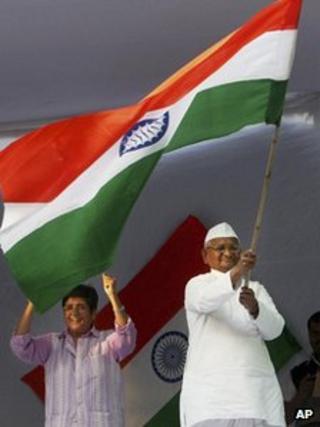 India's government is confident of tabling a new anti-corruption bill in the current session of parliament, a senior minister has said.
The Lokpal bill envisages setting up an independent ombudsman who would have the power to investigate and prosecute politicians and civil servants.
Activist Anna Hazare has threatened to go on hunger strike if the bill is not passed in this parliament session.
Minister Pawan Kumar Bansal said the bill could be tabled by Tuesday.
Leaders of 35 parties who joined Prime Minister Manmohan Singh to discuss the Lokpal bill earlier this week failed to reach a consensus on its contents.
Media reports suggest that a special session of parliament could be convened to allow more time to bring about agreement on the Lokpal bill. The winter session is scheduled to end on 22 December.
"We are working hard on it and I am confident we will present it in this session," Mr Bansal, who is the parliamentary affairs minister, said.
"Even if we do it by 20-21 December, I don't [see] why it cannot be done. On one day it can be discussed in one house and on the other day it can be done in the second house," he said.
Hazare threat
Senior opposition leader Sharad Yadav has demanded a special session of parliament to discuss the bill.
"The Lokpal bill should not be hurriedly passed. All members should be given a chance to give their opinions. A special session should be called to deliberate it," Mr Yadav told reporters.
Mr Hazare has said he will launch an indefinite hunger strike from 27 December and launch countrywide protests if the Lokpal bill is not passed during the current parliament session.
He told reporters he would also stage demonstrations outside the houses of MPs, Congress party chief Sonia Gandhi, and her son, Rahul Gandhi, in the capital, Delhi.
Mr Hazare's 12-day anti-corruption fast in August became the focus of a national campaign and put pressure on the government to act on the issue.
There are differences among political parties over who should come under the ambit of the proposed anti-corruption ombudsman, particularly lower-level bureaucracy.
The government appears now to have conceded that the prime minister should come within the ambit with some conditions, relating to matters of external affairs and national security.
The judiciary and conduct of MPs in parliament will not be included.
The main opposition Bharatiya Janata Party (BJP) and some other parties have also demanded that the investigative wing of the federal Central Bureau of Investigation (CBI) be included.
The CBI will take on cases assigned to it by the ombudsman.
Reports said that many parties had advised the government to go slow on the bill.
India has recently been hit by a string of high-profile corruption scandals, badly damaging the government's reputation.
Among them are an alleged multi-billion dollar telecoms scam, claims of financial malpractice in connection with the Delhi 2010 Commonwealth Games and allegations that houses intended for war widows ended up in the hands of civil servants.
A recent survey said corruption in India had cost billions of dollars and threatened to derail growth.