Report sought on India farm suicides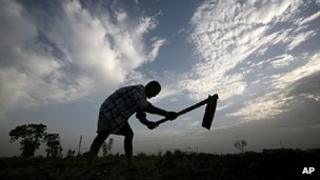 India's Human Rights Commission has sought reports from three states on a spate of suicides by farmers that have been reported by the local media.
Some 800 farmers have reportedly ended their lives in Maharashtra, Andhra Pradesh and Kerala this year.
Most of the suicides have been linked to poverty, debt, a sharp rise in costs and the failure of crops because of pest attacks.
Some 200,000 farmers have committed suicide in India since 1997.
Drought, a fall in crop prices and an increase in the cost of cultivation are cited as reasons for the farmers' plight.
Media reports say that 680 farmers have taken their lives in western Maharashtra state this year, while another 98 have committed suicide in southern Andhra Pradesh and Kerala states since October.
The commission said if the reports were true they "raise a serious issue of violation of human rights of the poor farmers".
Many farmers in India are forced to take out loans to buy necessary supplies, but these have left them heavily in debt. Some turn to moneylenders, who charge much higher rates of interest.
In 2008, the government announced a $15bn waiver of farmer loans.