India activist Swami Nigamanand 'was not poisoned'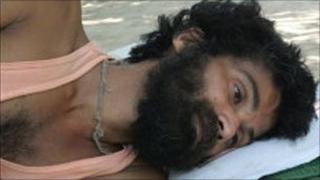 The death of an Indian activist after he went on a hunger strike was caused by malnutrition and not poisoning, a federal investigation agency says.
Swami Nigamanand, 36, who went on a hunger strike in February, slipped into a coma in May days after being hospitalised and died the next month.
The government had banned mining in part of the Uttarakhand state as demanded by the activist.
Members of his group had complained the activist had been poisoned.
The Central Bureau of Investigation (CBI) said in a statement that the "technical, clinical [and] medical investigation has concluded that the cause of death was malnutrition... and associated complications due to prolonged fasting".
"Chemical analysis of the viscera [internal organs] of Swami Nigamanand did not detect any poison," the statement said.
A founder member of a group called Matri Sadan, Swami Nigamanand went on a hunger strike on 19 February demanding a ban on mining around the Ganges river in the Kumbh region in Uttarakhand state.
He was hospitalised on 27 April after his condition deteriorated and he went into a coma on 2 May.
India has seen a number of hunger strikes against corruption recently by prominent activist Anna Hazare and popular yoga guru Baba Ramdev.