Kashmir power cut protest leaves one dead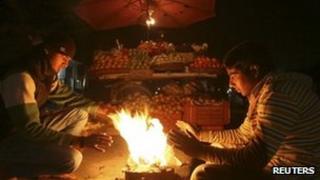 Guards have opened fire during a protest over power cuts in Indian-administered Kashmir, killing one person and injuring four, police say.
The protest took place at a National Hydroelectric Power Corporation plant at Uri, 75km (45 miles) north of Srinagar.
Four guards have been arrested.
The government announced power cuts in December to cope with a supply shortfall, sparking widespread anger during the bitterly cold winter months.
The BBC's Riyaz Masroor in Srinagar says Uri is highly militarised due to its proximity to the nearby Line of Control that divides the Indian- and Pakistani-controlled regions of Kashmir.
However, he says the guards involved were from the Central Industrial Security Force rather than counter-insurgency forces.
The firing has sparked anger in the Kashmir Valley, our correspondent says.
Police confiscated the weapons of the arrested guards.
The region's power cuts last up to 16 hours a day in temperatures as low as -15C.