India police make new arrest over nurse Bhanwari Devi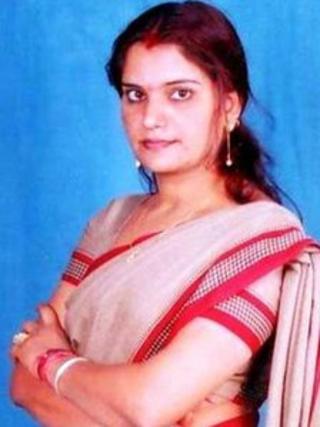 Police in India have arrested a key suspect in connection with the mysterious disappearance of a government nurse in Rajasthan state.
Bishna Ram Bishnoi was arrested in Pune city in neighbouring Maharashtra state, officials said.
Bhanwari Devi went missing on 1 September. She is presumed dead but her body has yet to be found.
Officials on Wednesday said they had also identified the area where they believe her body was burnt.
Former state minister Mahipal Maderna, legislator Malkhan Singh Vishnoi and Bhanwari Devi's husband are among the 11 people so far arrested in the case. All the men say they are innocent.
"Bishna Ram Bishnoi was found at an industrial warehouse during the combing operation launched by police following a tip-off by the Central Bureau of Investigation," Press Trust of India quoted Pune police commissioner Meeran Borwankar as saying.
He has been arrested on charges of criminal conspiracy and abduction, officials said.
They said he was produced in court and would be handed over to Rajasthan police soon.
'Husband's petition'
Officials say they are very close to a breakthrough in the case.
After Bhanwari Devi went missing, husband Amar Chand filed a petition in the Rajasthan high court alleging that his wife was kidnapped at the behest of Mr Maderna.
The court ordered the minister be made an accused after footage emerged that reportedly showed him in contact with the nurse.
The CBI says it has evidence that Mr Maderna was in touch with the nurse around the time of her abduction.
The case, initially investigated by Rajasthan police, was handed over to the CBI after the high court criticised state police for "going slow on the case" and accused the state government of acting to try to save the politician.