India fog causes Delhi travel chaos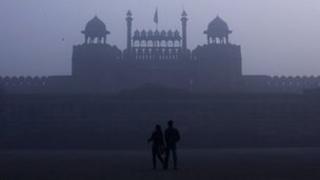 The Indian capital, Delhi, has been hit by dense fog that has caused major disruption to air and rail traffic.
At least 14 flights were cancelled and 55 others delayed after thick fog descended on the city on Thursday morning and visibility fell to near zero levels, officials said.
Dozens of trains have been delayed, with many running late by between five and six hours.
Road traffic in the city is reported to be crawling.
The Meteorological Office has forecast rain for Thursday.
Dense fog also enveloped many parts of the northern states of Punjab and Haryana on Thursday morning.
"At least 10 trains have been rescheduled and 54 trains are running late by more than two hours because of fog," Northern Railways spokesman SK Sharma told the BBC.
A cold wave has been sweeping through most of northern India for the past month, with fog disrupting travel across the region.
On Monday, 10 children and their school bus driver died when their vehicle collided with a truck in thick fog near Ambala in Haryana.
In the Kashmir Valley, temperatures have dropped several degrees below freezing.