Bhanwari Devi case: Missing Indian nurse declared dead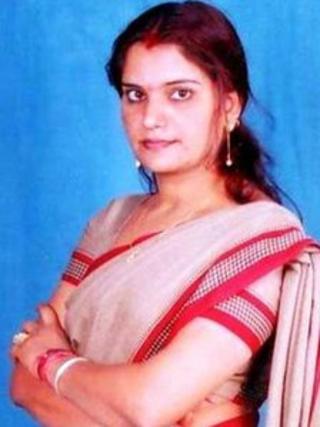 Indian police have declared as dead a nurse who mysteriously disappeared in Rajasthan state last year.
The move came after the discovery of a watch, jewellery and bones in a canal which police were led to by a key suspect.
Bhanwari Devi has been missing since 1 September and several people have been arrested in connection with the case.
Part of a skull and tooth that have been found are being DNA tested and the police will file murder charges soon.
Former state minister Mahipal Maderna, legislator Malkhan Singh Vishnoi and Bhanwari Devi's husband are among 11 people arrested in the case so far. All deny any involvement in the nurse's disappearance.
Anand Purohit, Additional Advocate General of Rajasthan, told the BBC the Central Bureau of Investigation [CBI] declared Bhanwari Devi dead in a "verbal submission" to Rajasthan High Court.
Jewellery, bone fragments and a bat were found in the Rajiv Gandhi Canal, about 100km (62 miles)from Jodhpur city in Rajasthan at the weekend.
Police said the suspect who led them to the canal told them the nurse was killed and her body burnt before being dumped there.
CBI spokeswoman Dharini Misra told the BBC the bat could be a murder weapon.
Officers also found a ladies' watch, which Ms Misra said was "very important evidence in the case that we have been waiting for".
Bhanwari Devi's son, Sahil, identified the valuables as belonging to his mother.
More sought
Last week, police arrested two key suspects, Kailash Jakhar and Bishna Ram Bishnoi, in connection with the case, officials said.
More suspects are being sought, but police say they are very close to a breakthrough.
"Two of the accused have been under CBI custody and two have been lodged in jail while four are absconding", Mr Purohit said.
After Bhanwari Devi went missing, her husband filed a petition in Rajasthan High Court alleging that his wife was kidnapped at the behest of Mr Maderna.
The court ordered the minister to be formally accused after footage emerged that reportedly showed him in contact with the nurse.
The CBI says it has evidence that Mr Maderna was in touch with Bhanwari Devi around the time of her abduction.
The case, initially investigated by Rajasthan police, was handed over to the CBI after the high court criticised state police for "going slow" and accused the state government of acting to try to save the politician.