India minority job quota on hold until polls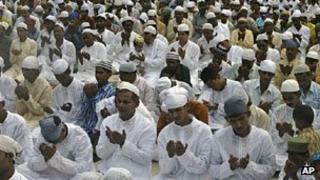 India's election authorities have put on hold a government decision to reserve a proportion of government jobs and seats in state-run education centres for minority groups.
The quota - of 4.5% of jobs and seats - has been suspended until elections are held in five states next month.
Critics say the Congress party announced the quota to woo Muslim minorities in the upcoming polls.
Opposition parties had complained about the move.
They accused the government of making the announcement to appease Muslim voters in the politically crucial state of Uttar Pradesh.
Muslims make up 18% of the state's 200 million people and hold the key in nearly a fifth of assembly seats.
"To ensure a free and fair poll, and to provide equal opportunities to all political parties and candidates, the minority quota has been put on hold," the Election Commission said in a statement.
Muslims, Sikhs, Christians, Buddhists and Zoroastrians (Parsis) are the main minorities in India.
The new quota for minorities is to be carved from an existing quota reserved for caste groups known as Other Backward Classes (OBC).
Muslims comprise more than 13% of India's billion-strong population, but are under-represented in government jobs, bureaucracy and the police, studies have found. A third of the population also lives below the poverty line.
Though India's constitution is silent on the allocation of jobs and school places on the basis of religion, nine states have already implemented similar quotas for minorities.
The Congress party promised a quota for economically-deprived members of the Muslim community in its election manifesto in 2009.
As well as Uttar Pradesh, elections will be held in Uttarakhand, Punjab, Goa and Manipur in February.