India Dalit woman beaten, paraded naked in Maharashtra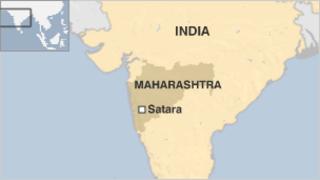 Police in India's Maharashtra state have arrested five members of an upper caste for beating, stripping and parading naked a low-caste Dalit woman.
The victim was attacked because her son had eloped with an upper-caste girl about a month ago.
She has alleged that police initially refused to file a case saying such incidents were not uncommon.
The incident took place in Mulgaon village on Monday afternoon but reports of the atrocity have just come out.
The village in Satara district falls in the constituency of the state's Chief Minister Prithviraj Chavan.
"The women pushed me to the ground, took off my sari and started beating me up with chappals [slipper] and a stick. They pulled my hair," the victim told a television channel.
She said the beatings continued for two hours.
On Wednesday, police arrested five people, including the eloped girl's parents.
Dalits, formerly known as "untouchables", are at the bottom of the Hindu caste system in India.
Although caste discrimination is illegal, biases remain in many areas.