Bus crash kills 15 in India's Himachal Pradesh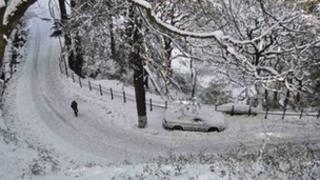 At least 15 people have been killed after a passenger bus skidded off an icy road in India's northern Himachal Pradesh state, officials said.
The bus was on its way from Chopal to Dharchana town when it rolled down a hill side in Shimla district.
Officials said 23 passengers have been injured in the accident.
Shimla, a popular tourist resort, received its heaviest snowfall in six years this month. Many roads in the area are still under snow.
A local official said that the injured had been admitted to hospitals in the area after the incident late on Thursday.
Earlier this month, at least 10 children were killed in a school bus crash in the northern state of Haryana.
Twenty others were injured when the bus and a truck collided on the Saha-Shahbad road near Ambala town.
Police said visibility was poor amid a thick blanket of fog.