India and China to begin border talks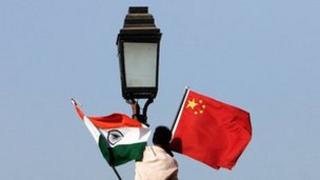 India and China have begun a fresh round of talks aimed at resolving a long-running dispute over their Himalayan border.
A number of areas along the border between the two countries are in dispute and the nations fought a brief war in 1962.
Numerous rounds of border talks have been held to try to resolve the issues.
China protested when Indian PM Manmohan Singh visited Arunachal Pradesh during his 2009 election campaign.
Last November China's ambassador to India became involved in a heated exchange over a map that showed parts of India within China's border.
State Councillor Dai Bing-guo, who is leading the Chinese delegation at the two-day talks, said the two countries must put aside their differences and seize "a golden period to grow China-India relations".
"There does not exist such a thing as China's attempt to attack India or suppress India's development," he wrote in an article which appeared in The Hindu newspaper.
"The world has enough space for China and India to achieve common development, as there are so many areas for us to work together," he wrote.
The Indian delegation at the talks is being led by the National Security Advisor Shivshankar Menon.
India's external affairs ministry said in a statement that the two sides will also hold talks on a "a wide range of bilateral, regional and global issues of mutual interest".
Both sides have previously claimed the other is occupying parts of its land.
While India has accused China of occupying territory in Kashmir, Beijing has laid claim to territory in the north-east Indian state of Arunachal Pradesh.