Moment of reckoning for Indian cricket?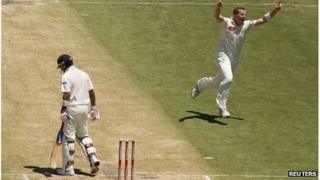 India lost the third Test against Australia on Sunday inside two-and-a-half days, going down to a 3-0 series defeat. It was their seventh consecutive overseas Test defeat stretching back to the tour of England last year. Sports writer Suresh Menon, who has written books on Sachin Tendulkar and Bishan Bedi, on why India's cricket authorities cannot be silent spectators any longer.
American mathematician Sam Saunders has a lovely analogy about how certain truths creep up on us.
A frog placed in hot water will struggle to escape, he points out, but the same frog placed in cold water that is slowly warmed up will sit peacefully until it is cooked.
Indian cricket is in hot water, but it has become hot so slowly that no one has noticed. After six away defeats in a row, it is time to shed sentiment and wield the axe.
At least since 2008, when Sourav Ganguly retired, the idea that Sachin Tendulkar, Rahul Dravid and VVS Laxman would follow suit soon ought to have been in the minds of the authorities.
Three years later in Australia comes the realisation that we don't have too many replacements.
The system seems to have let the team down, and it is the cricket board which has fiddled with the system, placing greater emphasis on money-making in the shortest form of the game while refusing to learn the lessons from its national championship, where runs are made by the tons by mediocre batsmen on shirt-front wickets.
Weak foundation
If the governing body of the sport has money-making as its motto, it cannot then blame the players for adopting the same motto.
The board knows that money buys influence and power. Sadly, it doesn't buy victories, as the players are discovering now that an entire nation is turning against them.
Of 28 Tests abroad dating back to Boxing Day 2007, the start of their last tour of Australia, India have won only eight while losing 13.
Australia, England and South Africa have all won more Tests abroad than they have lost in the last five years, to emphasise the weak foundation of India's number one ranking.
More to the point, despite their reputation as the finest batting side in the world during that period, India have batted for 100 overs in an innings just nine times in 55 outings. In the same period, they lost only two of 22 home matches, both to South Africa.
Perhaps we were spoilt by the natural-born strikers of the cricket ball.
The Tendulkars, Dravids, Laxmans, Gangulys and Sehwags made everything look so easy and performed with such authority for so long that we turned a blind eye to their diminishing powers.
The selectors got caught up in the hype too, and seem to have no plan for the transition. The result, like a frog jumping out of hot water, will be an entire middle order abruptly retiring, leaving a gaping hole.
It is never easy to tell a long-serving employee that his time is up. But it is a job that has to be done, and done with as much dignity as possible.
Skipper MS Dhoni has said that it has to be a process, not an event. Which is fair, except that, thanks to the lethargy of those in power, it might turn out to be an event after all. This is unfair to some of the greatest players to have played for the country, but it is the price for the lack of foresight.
Former captain Sourav Ganguly, under whom India first began to win abroad consistently, has said that this team cannot hope to win away from home. It has taken seven defeats in a row to come to terms with the reality.
The board, which has been a silent spectator for so long, cannot now afford to swing the other extreme and sack everybody. Starting with the coach - in the time-honoured sporting tradition - might be a good idea.