India army chief VK Singh sues government over retirement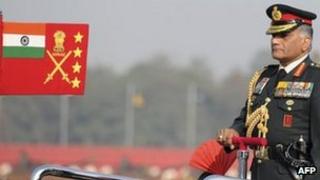 The Indian army chief, General VK Singh, has taken the government to court in a dispute over his age.
Gen Singh says that, according his birth records, he was born in 1951 and is not due to retire until May 2013.
But records at India's ministry of defence show he was born in 1950, meaning his retirement is due in 2012.
It is said to be the first time a serving chief of Indian armed forces has petitioned the Supreme Court against the government.
Gen Singh - a highly decorated soldier who became army chief in March 2010 - argues that the issue relates to his "integrity and honour".
Home Minister P Chidambaram said that the general was highly respected and that the government was unhappy that the controversy should have erupted in this way.