Row over India army chief VK Singh's age 'unfortunate'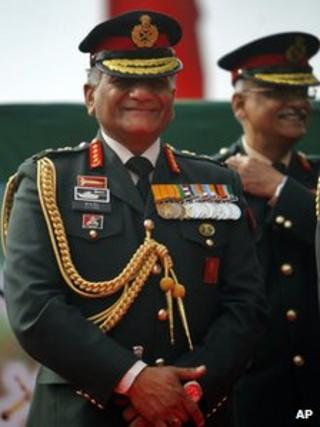 India's junior defence minister has said the row over the age of the army chief, General VK Singh, was an "unfortunate development".
Pallam Raju said the "unhealthy precedent" did not "augur well either for the defence ministry or the army".
This is the first public reaction from the government since Gen Singh filed a lawsuit in the Supreme Court on Monday.
He wants his birthday in official records to be changed to 10 May 1951. They currently say he was born in 1950.
If the date is amended, the general will retire in 2013 and not in 2012 when he is meant to step down.
Gen Singh - a highly decorated soldier who became army chief in March 2010 - argues that the issue relates to his "integrity and honour".
It is the first time a serving chief of the Indian armed forces has petitioned the Supreme Court against the government.
The authorities are trying to find a way out of unprecedented developments.
On Tuesday, Defence Minister AK Antony met Prime Minister Manmohan Singh to discuss the row.
The government also asked the Supreme Court not to rule until its views were heard.
Defence Secretary Shashikant Sharma, who was touring Malaysia, was asked to cut short his visit and return to Delhi.
In a petition filed in the court on Monday, Gen Singh submitted 20 documents - 19 of which apparently show his birthday as 10 May 1951, a BBC correspondent in Delhi reports.
Gen Singh said he went to court "after exhausting all statutory options within the defence ministry".
In July, the ministry fixed Gen Singh's date of birth as 10 May 1950 - his complaint against the order was rejected in December.
Opposition parties have criticised the government for its handling of the dispute.