Bollywood director makes up with star Shah Rukh Khan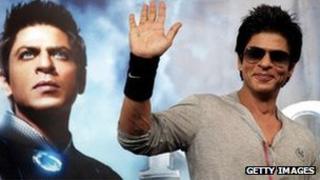 A filmmaker who alleged he was roughed up by Bollywood star Shah Rukh Khan at a party says the two have made up.
Shirish Kunder tweeted he had met Khan for a "heart to heart chat" and "resolved all misunderstandings".
Earlier Kunder said Khan had pushed him and pulled his hair at a party in the western city of Mumbai early on Monday.
Though Khan did not react directly, he tweeted that "it feels ironic when I read and see what is being said".
"Shah Rukh and I just met, had a heart to heart chat and have resolved all misunderstandings. All animosity is now sorted for good," Kunder tweeted late on Tuesday.
"Some incidents in our life when resolved make relationships stronger than they were ever before," he said.
Kunder's wife - Bollywood filmmaker Farah Khan - had earlier said Shah Rukh Khan had taken her husband "by his hair, dragged him to the ground, kicked and punched him".
She said that the star may have been provoked by a tweet from Kunder that hinted his superhero movie Ra.One. had not done well at the box office.