India court to rule on Chidambaram role in 2G scandal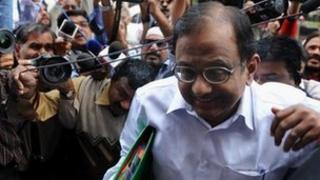 India's Supreme Court is due to rule on whether Home Minister P Chidambaram should be probed in connection with the country's biggest corruption scandal.
The scandal pertains to alleged mis-selling of telecommunications licences.
Opposition MPs accuse Mr Chidambaram of not doing anything to stop the telecoms scandal when he was finance minister. Mr Chidambaram denies any wrongdoing.
The court will also rule on whether licences given to several telecoms companies in 2008 should be revoked.
Government auditors say the scandal cost the country about $40bn (£24.5bn).
Former telecommunications minister A Raja and DMK lawmaker Kanimozhi are among 14 people charged in connection with the case. They all deny any wrongdoing.
Opposition MP Subramanian Swamy alleges that decisions over the price of telecoms licences were taken jointly by Mr Chidambaram and Mr Raja.
He says Mr Chidambaram as finance minister could have prevented Mr Raja from allocating bandwidth on a "first-come-first-served" basis.
The government says Mr Swamy's allegations are politically motivated.
Correspondent say the court order is being keenly watched. Mr Chidambaram is a powerful minister and if the court orders an investigation it will be a major setback for the government, which has been hit by a series of corruption scandals in the recent months.
Opposition MPs have been calling for Mr Chidambaram's resignation for several months now.
The telecoms scandal - often referred to as the 2G spectrum case - has badly damaged the reputation of the government.