India battered baby's condition worsens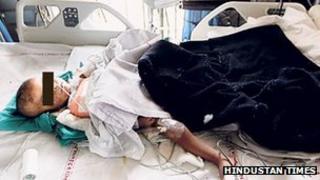 The condition of a severely battered toddler admitted to a hospital in the Indian capital, Delhi, has worsened due to an infection, doctors say.
Neurosurgeon Deepak Agarwal told the Press Trust of India that the baby's chances of survival were slim.
Police on Wednesday arrested two men and a woman, including the teenager's father, in connection with the case.
The baby was brought to hospital with serious injuries, including human bite marks all over her body.
She is on a ventilator and is being constantly monitored by a team of doctors who say they have never seen "such cruelty" inflicted on a baby.
The teenager who brought the toddler to the hospital claimed she was her mother.
The case has caused outrage in the city.
'Still critical'
"She has developed septicaemia [a blood infection] that can spread to other organs like kidney and liver too," Dr Agarwal told PTI.
"She is still critical and her chances of survival continue to remain less than 50% as she has developed high chances of multi-organ failure. The organism that has caused infection in the brain are there in the chest and have now entered the blood," he added.
The toddler has undergone two surgeries till now.
She was brought to the hospital on 18 January with broken arms and a partially smashed head by the teenager who claimed the toddler had fallen from bed.
Police say their interrogation has revealed that the girl was abandoned by her father and abused by a couple who pushed her into prostitution.
Senior police officer Ajay Choudhry said: "The father has been charged with cruelty and abandoning her while the couple have been charged with forcing her into the flesh trade."
He said they were looking for a fourth man who had handed over the baby to the teenager.