India economy: Growth 'to fall below 7%' for 2011-12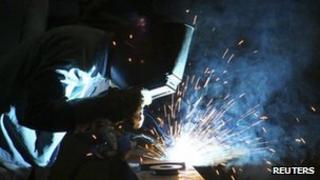 India's economic growth is likely to dip below 7% for the 2011-12 financial year, new government statistics show.
The downward revision reflects the slowdown in mining, agriculture and manufacturing sectors.
Only last week Prime Minister Manmohan Singh had re-stated government figures of 7%-7.5% growth. The figure for the 2010-11 year was 8.4%.
Analysts say industry has been hit by frequent interest rate rises, designed to curb soaring inflation.
Credit warning
The new figures released by the government's Central Statistical Organisation on Tuesday updated its December projections for 7.25%-7.75% growth to the end of March.
Agriculture is now expected to grow at just 2.5%, compared with 7% the previous year, while manufacturing should grow at 3.9% (7.6%).
Mining could actually decline - by 2.2% - combated with growth of 5% in 2010-11.
Analysts point to global market uncertainty, particularly in the eurozone, and apparent policy paralysis in the Indian government as contributing to the slowdown.
On Monday, ratings agency Standard and Poor's warned there could be a downgrade in India's investment-grade credit rating.
Andrew Kenningham, of Capital Economics in London, told Reuters: "Growth prospects are not looking good by historical standards."
Planning Commission deputy chairman Montek Singh Ahluwalia told the Press Trust of India the new figures were "consistent with what we have been saying".
Inflation has proved a persistent problem. Interest rates have been raised 13 times since March 2010 in an effort to slow price increases.
Despite the growth downgrade, the main Sensex stock exchange has continued to perform well - up nearly 15% this year - while the under-fire rupee has risen 8% on its 2011 close.