India court orders probe of 'humiliated' policeman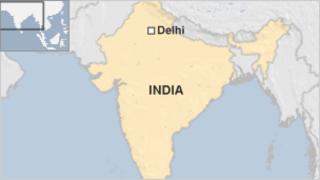 The high court in Delhi has ordered police to investigate after a video appeared to show a senior officer forcing a constable to perform front rolls for failing to salute him.
The incident allegedly took place in the city's Patiala House court complex.
Lawyers who saw the incident filed a complaint against additional deputy commissioner of police Seju Kuruvilla. He has not commented publicly.
The court's ruling referred to "a brutal and inhuman act".
It issued a notice against Mr Kuruvilla, saying the case could amount to criminal contempt of court.
Acting Chief Justice AK Sikri and Justice Rajiv Saha gave police a week to respond.
'Humiliating'
Eyewitnesses said the constable was talking on his mobile phone and was not frisking those passing through his gate.
They said he failed to recognise Mr Kuruvilla, who was not in uniform.
Lawyers who witnessed the incident captured it on mobile phones.
In their complaint, the lawyers said they "saw a constable rolling/crawling on ground in uniform from gate number 6 towards courts. On enquiry, it was revealed that the above named additional DCP has compelled the constable to do such a humiliating and inhuman act".
One of the lawyers, SN Sharma, said Mr Kuruvilla made the constable "do somersaults for 200-250 yards", adding that "the humiliated constable was in tears".
Some reports said the constable was later taken to hospital.
Police commissioner BK Gupta said the force was investigating.