India bus crash kills 23 in Uttar Pradesh wedding party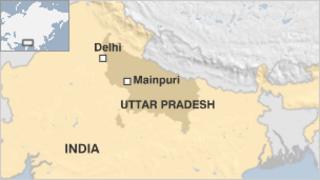 At least 23 members of a wedding party have died in a traffic accident in Uttar Pradesh in northern India.
Their bus was in a head-on collision with a lorry before dawn near the town of Mainpuri, police said.
More than 35 people were also injured, with many of them taken to hospital in nearby Agra.
The bride and groom were reportedly travelling separately to the engagement ceremony in Etah district and were said to be unharmed.
India has a terrible road safety record, with more than 100,000 people dying every year in crashes.
Police say they have identified 23 of the dead from the crash, near the village of Haveli.
An inquiry has been ordered.