Attacked India student's father in London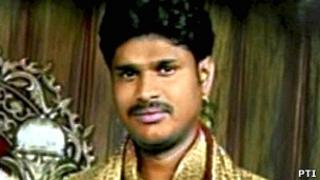 The father of an Indian student who was attacked in Britain on Friday is visiting his son in a London hospital.
Praveen Reddy, 26, was stabbed outside his apartment in East London. His condition is described as critical.
Three men have been charged with attempted murder, according to a statement issued by Scotland Yard.
Amareshwar Arava and Sai Kishore Balguri, both 25, and Nishanth Puttapaka, 23, were due to appear in a magistrate's court on Monday.
A police spokesman said that Mr Reddy "would be ok".
Scotland Yard said they were not treating the attack as racially motivated. It is not yet clear what prompted it.
Police told BBC Hindi that 11 people aged between 22 and 27 had initially been arrested in connection with the attack. Seven were bailed and one was released with no action.
Mr Reddy's father and uncle arrived in London early on Monday from the southern Indian city of Hyderabad, where they live.
They were met by officials from the Indian High Commission at the airport and taken to the hospital where Mr Reddy is being treated for several stab wounds, a relative told the BBC.
Relatives said Mr Reddy, who attended London School of Business Management, was planning to return to India after the completion of his studies.
"He had spoken to me last on Thursday night when he said that he was at his friend's birthday party and that he would call back later," his uncle Kashipati Konda told the BBC.
in December, a 23-year-old student from India died after he was shot in the head at close range, in what police say was an "unprovoked attack" in Salford, Manchester.
Mr Bidve was on a visit to Manchester with a group of university friends when he was shot in the head at close range as he walked along Ordsall Lane.
Kiaran Stapleton, 20, of Ordsall, has been charged with his murder, and is due to appear at Manchester Crown Court in March.