India 'loses $500bn to tax havens'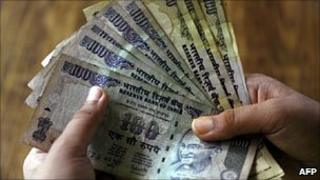 The chief of India's federal investigation agency says Indians have illegally deposited an estimated $500bn in overseas tax havens.
Central Bureau of Investigation (CBI) director AP Singh said Indians were the largest depositors in foreign banks.
Funds were being sent to tax havens such as Mauritius, Switzerland, Lichtenstein and the British Virgin Islands among others, he said.
Analysts say this flight of capital has helped widen inequality in India.
Mr Singh was speaking at the opening on Monday of the first Interpol global programme on anti-corruption and asset recovery in the Indian capital, Delhi.
"It is estimated that around $500bn of illegal money belonging to Indians is deposited in tax havens abroad. [The] largest depositors in Swiss Banks are also reported to be Indians," The Press Trust of India (PTI) quoted him as saying.
Mr Singh said getting information about such illegal transactions was a time-consuming and expensive process as each country where money had been sent had to be approached for help with investigations.
He said there was a lack of political will in the tax havens to part with any information because they were aware of the extent to which their economies had become "geared to this flow of illegal capitals from the poorer countries", PTI reported.
In a report in November 2010 the US-based group, Global Financial Integrity, said India had lost more than $460bn between 1948, a year after Independence, and 2008 because of companies and the rich illegally funnelling their wealth overseas.
India's underground economy accounted for 50% of the country's gross domestic product, it said.
The report said the illicit outflows of money had increased after economic reforms began in 1991.
In recent months, India's Congress party-led government has been on the back foot on the issue of black money and corruption.
The Supreme Court has also chided the government for not doing enough to unearth illicit money.