Indian Nobel laureate Amartya Sen honoured in US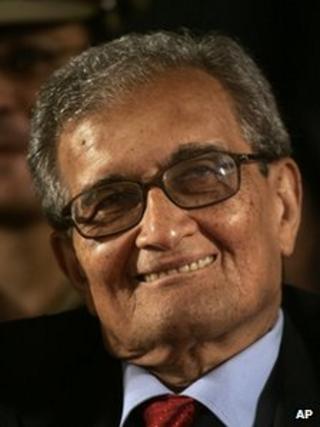 Nobel prize winning Indian economist Amartya Sen has been awarded the prestigious US National Humanities Medal by President Barack Obama.
Prof Sen was awarded the medal for "his insights into the causes of poverty, famine, and injustice", Mr Obama said.
Prof Sen is the first Asian to win the Nobel Prize in Economics.
The 2011 National Humanities Medal was given to Kwame Anthony Appiah, John Ashbery, Robert Darnton and Andrew Delbanco, among others.
Prof Sen is currently a professor of economics and philosophy at Harvard University.
"We even have an economist, which we don't always get on stage," Mr Obama said referring to 78-year-old Prof Sen, before he presented the medal to him at a White House function.
"By applying philosophical thinking to questions of policy, he has changed how standards of living are measured and increased our understanding of how to fight hunger," the citation read.
Prof Sen then went on stage to receive the medal from Mr Obama.
The economist is also the recipient of India's highest civilian honour, the Bharat Ratna or the Jewel of India.
He was awarded the Nobel Prize in 1998 for his contribution towards understanding the underlying causes of famine.
Prof Sen has written or edited more than 30 books on economics and philosophy.
He has also written widely on violence, peace, development, equality and cultural identity.
"I don't really find the division between the subjects contrary to human understanding," he once said.
"But if someone were to say to me, you're an economist and you can't study philosophy, that would be contrary to how the human mind works."