Councillor throws rubbish at rival in Jaipur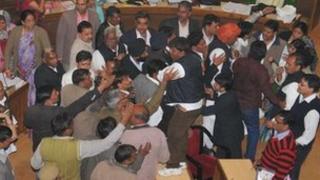 A civic councillor in the Indian state of Rajasthan has emptied a rubbish bin over a colleague to protest against the unsanitary conditions in his area.
Independent councillor Nawab Ali threw trash at Roshan Lal Saini, chairman of the sanitary committee in the state capital, Jaipur.
Mr Ali is backed by the state's ruling Congress party whereas Mr Saini is from the opposition Bharatiya Janata Party.
Mr Ali was then beaten up by several BJP councillors.
It soon turned into a free-for-all on the floor of the municipal corporation with some councillors climbing onto tables and pushing each other.
Reports said marshals rushed in to control the situation and brought out Mr Ali, who sustained minor injuries in the scuffle.
"I have been asking the committee chairman to clean up my ward for several months but he did not pay attention, so I chose this way to draw his attention," Mr Ali told reporters after the incident.
Mr Ali represents the Muslim districts in the walled city area of Jaipur and has been complaining about unhygienic conditions there for some time now.