India growth drops to slowest in nearly three years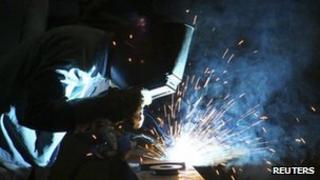 The Indian economy saw its weakest growth rate in nearly three years during the last quarter of 2011 as the manufacturing sector continued to slow.
Gross domestic product (GDP) grew by 6.1% between October and December, from a year earlier.
Growth in the manufacturing sector slowed to 0.4% during the period, down from 2.7% in the previous quarter.
India's growth has also been hurt by a series of interest rate rises aimed at reining in high prices.
"GDP came in slightly weaker than consensus, though not entirely surprising," said Radhika Rao of Forecast Pte.
"Moderation in the manufacturing sector was likely the starkest as higher input prices and sharp jump in borrowing costs depressed output."
'More headwinds'
India's economy has been slowing in the past few quarters. It posted an annual growth rate of 7.7% in the April to June period, followed by a rate of 6.9% in the July to September quarter.
Analysts said that given the slowdown in key sectors such as manufacturing and mining, Asia's third-largest economy may not be able to achieve its growth targets for the current financial year.
Earlier this year, Prime Minister Manmohan Singh had said that the government was targeting growth of between 7% and 7.5%.
"Today's data is dismal," said Rupa Rege Nitsure of Bank of Baroda.
"The country has started attracting more headwinds in the form of gyration in crude oil prices. So we should be prepared for worse numbers."
Analysts said that India's central bank needed to take more action in order to spur growth.
"The ball is in the government's court now to kick-start policy reforms to jump-start near-stalled private investments and produce a medium-term fiscal consolidation road map at the upcoming budget," said Ms Rao of Forecast Pte.