India Kerala fishermen killed in collision with ship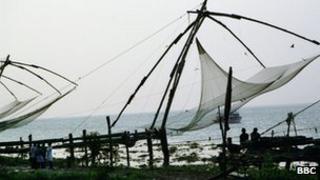 Two Indian fishermen have been killed and three others have gone missing when a ship collided with a boat in the southern state of Kerala, police said.
Two other fishermen who were in the boat swam to safety after the collision which happened off the Kollam coast early on Thursday, police said.
Last month, an Italian cargo ship fired at an Indian trawler off the coast of Kochi in Kerala, killing two fishermen.
Reports say the Italians mistook the Indian boat for a pirate vessel.
Police said a rescue operation had been launched to trace the missing fishermen.
Coast guard officials said efforts were on to locate the ship.